Our Finnish #FridayFeature – Meet Sara!
Summer is here and Office Sign Company has officially hit its busy season! With an influx in orders and custom requests, we need our frontliners (Customer Success Department) to be ready to roll. We are excited to be welcoming two awesome new employees to those frontlines, and we're excited to introduce them to you! This week's #FridayFeature is all about one of our latest and greatest hires – Sara Juntunen. Read on to learn more about Office Sign Company's newest Finnish employee!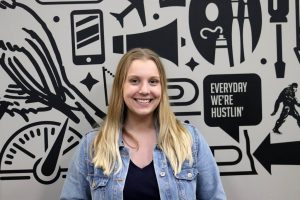 Interested in adding a "Culture Wall" to your business? Find out how here!
What's your name?

Where are you originally from?

"Oulu, Finland (Yes, Finland across the ocean, and yes, I've also been to Finland, MN 🙂

)"

What's your current position at Office Sign Company?

Can you tell us what all that will entail?

"I'm still doing a lot of learning, but I think for me the easiest way to describe my job is to ensure I serve as a liaison between customers and the different teams at OSC. I help customers place orders, and answer any questions they might have. I try to make sure that the customers I interact with have a fabulous experience with OSC, whether working with us for the first or the 100th time."

Where did you attend college?

"I graduated in 2016 from Concordia with my undergrad and 2019 from NDSU with my graduate. I now have a BA and MA in Communication."

Have you worked anywhere previously? If so, where?

"Yes, I worked as a COBRA Account Specialist at Discovery Benefits between my two degrees. I've also been lucky to have different internship experiences."

Do you have any hidden talents or random fun facts you'd like to share?

"Ha – none that I've discovered yet. 🙂

"

Favorite activity or sport/sports team?

"Trying out new Pinterest recipes. I also like going out for walks and exploring new areas, or enjoying downtown Fargo atmosphere."

What are you most looking forward to while working here?

"Getting to know all of our awesome products and people, and for creating lasting customer relationships."

What's your favorite part about this community?

"Absolutely the people – everyone is so creative, open-minded and super supportive."

When I'm not at OSC, you can find me…..

"Home with my fiancée, with my friends or doing something downtown Fargo. If it's a summer Saturday, it's farmer's market, otherwise, probably a coffee shop. Up until July, probably wedding planning."

What's your favorite meal/restaurant in Fargo??

"Boiler Room hands down! Best meals, deals, and people. 🙂

Although, there are several great options in downtown Fargo."

What advice would you give to younger people trying to get into your profession?

"Never underestimate the power of communication. Whether written or oral, it's super important. That public speaking or English writing class you aren't so excited about – it matters. It will help you in the future. Also, keep an open mind to change and accept that you'll continue learning indefinitely. Don't compare yourself to others, but set your mind to being a better version of yourself every day, and you not only grow yourself, but help others grow, too. Especially in customer service, you mind not always do everything perfect, but the way in which you react to your mistakes make a BIG difference. Nobody expects you to be perfect, just to have the right attitude and try your best."
We know that Sara will do great things at Office Sign Company, and we are thrilled to have her on board! With any questions about our products, services or career opportunities, be sure to reach us via e-mail or give us a call at 701-526-3835 – you may even get to speak with Sara!
Written by: Rylee Wznick