Gear Up for Your Grad Party
Eighteen years have flown past, and it's time to start planning your graduate's open house! Fortunately for you, Office Sign Company is happy to serve as your "one-stop-shop" for all of the fun props and signage you may need to make your grad's day a blast. Read on to see what all is included in our Grad Party Package!
Photo Booth Props
Weddings, grad parties, and celebrations in general are a great place to hold a photo booth. We often forget to take photos to reflect on some of our best days, and having a fun way to capture it is just the ticket. At Office Sign Company, we can custom design and fabricate any prop you'd like – from graduation caps to selfie frames. These props are made out of foamcore and printed on our UV Flatbed printer. Include a fun, unique addition to your grad's day with photo booth props and selfie frames!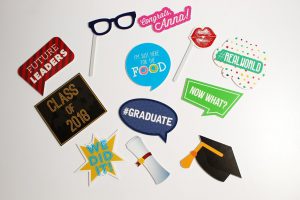 Find these props here!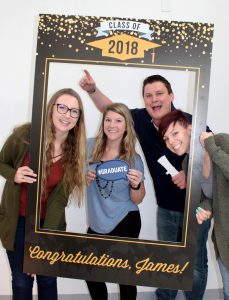 Find our custom Selfie Frame here!
Signage
If you need to aid your guests to find the party, check out our custom yard sign option. Made out of corrugated plastic, these signs are double-sided, durable, and perfect for leading them to the event!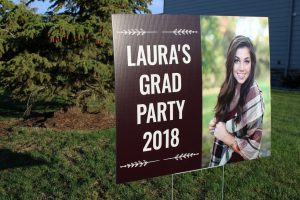 Find our custom yard sign here!
Need a backdrop for photos at your grad's party? Our full color, custom banners act as a great backdrop and directory tool!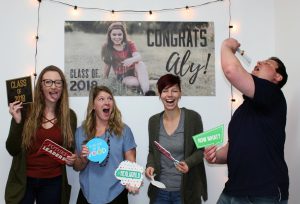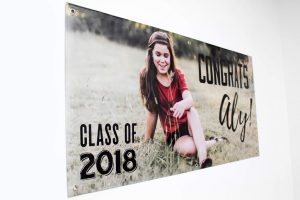 Find our custom banner options here!
Stamps and Magnets
Save time and money with our customizable return labels and save-the-date magnets! These magnets are 3″ x 3″ and in the shape of a graduation cap – simply send us the information and we'll get them printed, cut, and sent your way.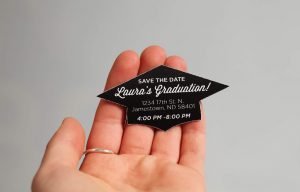 Find our Save-the-Date magnets here!
When it comes time to write thank you's after your grad's party, our return label stamps are a must-have. We can even customize the text and font to what you'd like!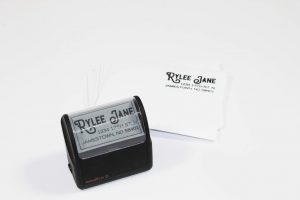 Find our return label stamps here!
Our Grad Party Package is not at all limited to the selection above. If you have something else in mind, feel free to send us an e-mail with an idea of what you'd like, and we'd be happy to offer our services! Congrats, Class of 2019!
Written by: Rylee Wznick