When it comes to advertising, there are countless options and all of them have their own benefits and pitfalls. Print ads get wide circulation, but are generally only good for about a month. Social media can be affordable and efficient, but it doesn't always have success. These types of marketing tools are important but can fall short by having a temporary impact or being unwanted by the demographic. There is a more unique marketing option that avoids both of these negatives—branded gifts!
Giving away branded gifts is a win, win scenario. The recipient receives a gift, and the company benefits from a unique marketing opportunity. The following is a list of just a few of the benefits that come with branded gifts.
Longevity
One of the downfalls of advertising and social media, is the temporary nature of those marketing tools. Branded gifts are a long-term investment with a one-time cost. These are not only durable items with a long life span, but they can be made practical so people keep them around long-term. Along with these company-branded items, comes brand association and familiarity. A gift that will be used often won't just be appreciated, it will provide long-term exposure of your company's brand to anyone coming in contact with it. Items such as coasters, mugs, pens, magnets, portfolios, cutting boards, and more can be used by anyone almost anywhere!
Employee Pride
If you're not looking to give out gifts to clients, giving employees company gear can be very beneficial too. It's a nice perk for them, it gives your company a professional look. It also creates an opportunity for employees to show their love for the company. When welcoming new employees to your office, provide them with a company sweatshirt, polo, hat, or t-shirt! Not only will they feel welcome and like part of the team, but they'll be able to represent the company early on!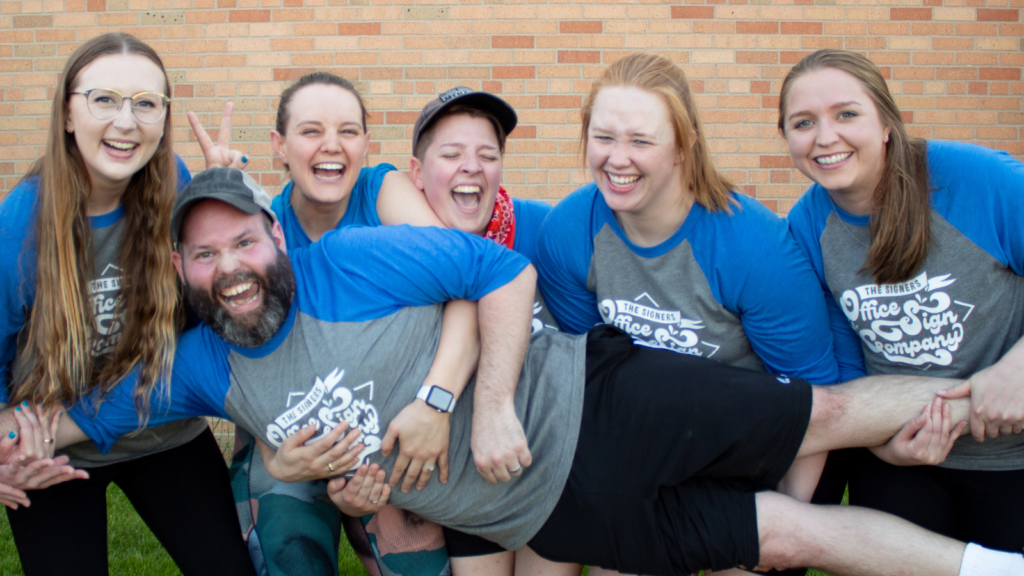 As an employee gets settled, a branded portfolio with a pocket for business cards, paper, and a pen holder ensures they are prepared & ready to take notes at future meetings with clients. Branded apparel, along with a branded portfolio, will guarantee a look of professionalism! Throw in a branded pen and you have three eye-catching opportunities that show off your brand.
Creating Brand Endorsers
Giving these gifts is also a great way to create casual brand endorsers. Clients, employees, or friends using these gifts are advertising your company to those around them. With that in mind, something portable and practical like a mug or a portfolio gives ample opportunity for others to see your company logo—a fun form of advertising! Getting your logo out into the community is always beneficial.
Builds a Relationship / A Gift is a Gift
All marketing and advertising aside, a gift is a gift. Even when it's branded, it helps to create a positive relationship between you and the recipient. If you're going to invest in marketing or you're trying to appeal to a target audience, they might as well get something useful out of it too. A branded gift is a way to say "thank you", "we appreciate you", or "we'd love to work with you in the future—we're here for you!".
It's Fun!
Sometimes it's good to have fun with your marketing, especially when you get to put your logo on golf balls.
Signing off until next time!
Written by: Jack Machacek
www.officesigncompany.com
701-526-3835 // kaley@officesigncompany.com