#FridayFeature – Bryce!
Office Sign Company has been fortunate to employ some rockstar employees throughout the years. From part-time to full-time, our crew always delivers with ambition, positivity, and innovation. Some of the hardest working and most eager, however, are our interns. Bryce Paulson is another intern who's already begun to prove his work ethic! We are excited to be welcoming a Sales Intern to our crew. Without further adieu, meet Bryce!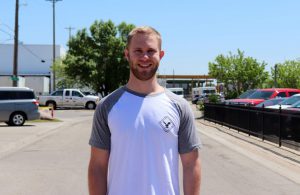 What's your name?

Where are you originally from?

"I'm from Elbow Lake, Minnesota."

What's your current position at Office Sign Company?

Can you tell us what all that will entail?

"I'll be working with the FargoStuff sales [Office Sign Company's sister site], taking chats from online customers, and reviewing payments."

Where did you attend college?

"I will be graduating in December of 2019 from University of Minnesota Crookston with a degree in Business Management."

Have you worked anywhere previously? If so, where?

"I've worked at Turf and Grounds Landscaping."

Do you have any hidden talents or random fun facts you'd like to share?

"I once grabbed a ribbon off a calf's tail while visiting in Wyoming.

"

Favorite activity or sport/sports team?

"I enjoy traveling, camping and fishing."

What are you most looking forward to while working here?

"Meeting everyone, contributing to the culture, and learning A LOT."

What's your favorite part about this community?

"Everyone is so friendly."

When I'm not at OSC, you can find me…..

"With friends and family, and working on summer classes."

What's your favorite meal/restaurant in Fargo??

"Wild Bills (free peanuts are a plus)!"
We are excited to see Bryce grow in his new position here, and we're certain he'll be a great addition to our company culture, too! With any questions about our products, services or career opportunities, be sure to reach us via e-mail or give us a call at 701-526-3835 – welcome to the team, Bryce!
Written by: Rylee Wznick in reference to Bryce Paulson