#FeatureFriday – Meet Taylor!
After a long winter, summer is fast approaching and we are gearing up for another eventful season! Warm weather means more installs, more fabrication, and even more fun at work. In anticipation of the busy season, we're ensuring we are fully staffed so that we can accommodate installs, fabrication, and cultural fun. With that, we are welcoming a new face to our Engraving Department – meet Taylor!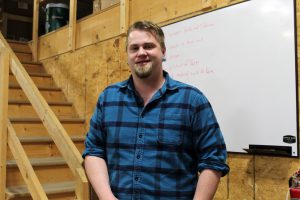 What's your name?

Where are you originally from?

"I'm originally from Roseau, Minnesota."

What's your current position at Office Sign Company?

Can you tell us what all that will entail?

"

I work with Braille signs, mostly transferring the Illustrator Document to the Gravograph and Vision software to make the tool paths. I find the correct color and size materials to put the sign together, place those materials in the right order on the work surface, then send the job to the router engraving machine and change bits for the correct tool path. Lastly, I insert the Braille beads, clean up the signs, and send them to Assembly.

"

Where did you attend college?

"I graduated in 2015 from Minnesota State Community Tech with a degree in Graphic Design Technology."

Have you worked anywhere previously? If so, where?

"I previously worked as a Quality Auditor at Integrity Windows and as a Kitchen Supervisor at Blvd Pub."

Do you have any hidden talents or random fun facts you'd like to share?

"Some fun facts: I collect comic book, Pokemon cards, wands from Harry Potter, and coins from GoT and Lord of the Rings. I love movies – anything Marvel, Star Wars, Harry Potter or Disney.

"

Favorite activity? Or sport/sports team?

"

I enjoy playing most sports, but basketball is probably my go-to, along with football. My favorite sports team would be the Timberwolves and the Vikings

."

What are you most looking forward to while working here?

"

The hard work in a fun work environment, and with a creative atmosphere

."

What's your favorite part about this community?

"

It's a bigger city with a small town, friendly feel.

"

When I'm not at OSC, you can find me…..

"…

Walking my dog, playing video games, watching movies or buying stuff I don't need at my favorite stores (like Rock30, Paradox Comics, or Electric Underground

)."

What's your favorite meal/restaurant in Fargo??

"

Lone-star steakhouse: a New York strip with French onion soup and garlic mashed

potatoes."

What advice would you give to younger people trying to get into your profession?

"

Work hard and be positive –

good things will happen."
Taylor is already helping the flow of our Production Facility run smoothly. He's a quick learner, and an essential member of our busy crew. To learn more about Office Sign Company careers and services, visit the links provided and stay tuned for our next #FridayFeature!


Written by: Rylee Wznick