#FridayFeature – Meet Kali!
The custom vinyl wall wrap (pictured below) behind Miss Kali Vinson says it best: Everyday we're hustlin' – and there's no doubting that! We love to see our newest employees already getting right into the hustle and bustle of our eventful season, and for that, we think they deserve a special shout-out. She's ambitious, quick to learn, and eager to take on more. Meet the most recent addition to our crew – Kali!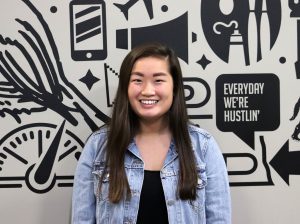 Looking for a custom vinyl wall wrap? Get a quote here!
What's your name?

Where are you originally from?

"I was born in and adopted from China, but grew up in St. Louis Park (MN) for the majority of my life."

What's your current position at Office Sign Company?

Can you tell us what all that will entail?

"I will act as a face and voice for OSC, answer and support all customer questions and product inquiries, assist customers with placing orders, and be knowledgeable about the company, its products and our production processes."

Where did you attend college?

"I graduated from Concordia College (Moorhead, MN) with a Bachelor of Arts in International Business and Spanish this past May (2019)."

Have you worked anywhere previously? If so, where?

"I've worked on campus at Concordia in Dining Services, the Cobber Bookstore, Residence Life, Campus Information and Dispatch, and the Office of Communications and Marketing. I've also worked abroad as a Communications and Marketing Intern at Living-Sevilla in Spain."

Do you have any hidden talents or random fun facts you'd like to share?

"I have two cats – Chewy (boy, black/grey tabby) and Nelly (girl, orange tabby). I have been to all 50 states, and I am related to Judy Garland (Dorothy from Wizard of Oz).

"

Favorite activity or sport/sports team?

"Traveling, spending time outside (preferably near a body of water), spending time with friends in downtown Fargo or anywhere in Minneapolis, doing arts and crafts, volleyball, and running; I like the MN Vikings, U of M Gopher Volleyball team, and any of the US Olympic teams."

What are you most looking forward to while working here?

"The people and culture (as many others would say) and the free/defective/discounted signs we get as employees, making customers happy."

What's your favorite part about this community?

"Of OSC – I like the quality of people who work here and of products we offer; Of Fargo – it's perfect size (not too big, not too small, the biggest small town/smallest big city)."

When I'm not at OSC, you can find me…..

"Traveling, outside enjoying the weather (when it's nice out), eating at one of my favorite restaurants downtown, in bed with my kitties eating yummy snacks and watching a good show or movie ."

What's your favorite meal/restaurant in Fargo??

"Breakfast Casserole from the Boiler Room, Blue Crush Pizza from Blackbird Woodfire, Spicy Crispy Porkbelly Rice Bowl from Drunken Noodle, Guac + Chips and any chicken-based taco from Vinyl Taco, and any treats from Scoop 'N Dough, Silver Lining, or Tea & Crepe."

What advice would you give to younger people trying to get into your profession?

"Get to know yourself and your customers. The more you know, the easier the communication. The easier the communication, the better the relationships. The better the relationships, the better the results (a happy employee and a satisfied customer). Go the extra mile. Do fail and learn from your mistakes. Make the most of whatever you do."
We are thrilled to welcome recent grad, Kali Vinson, to our team! It's evident that she will accomplish all that's expected of her and more. Her enthusiasm is contagious! With any questions about our products, services or career opportunities, be sure to reach us via e-mail or give us a call at 701-526-3835 – you may even get to chat with Kali!
Written by: Rylee Wznick in reference to Kali Vinson