Office Sign Company Garage Sale!
At Office Sign Company, we love to challenge ourselves to diversify our capabilities. We do this by listening to our customers' needs, equipping ourselves with the proper machinery and staff, and getting creative with prototypes!
In order to accurately depict our prototypes that eventually become new product listings, we fabricate all of our products in-house and photograph them so that our customers can clearly see what they're ordering. That being said, we end up collecting a variety of signage (among other products) that sadly go unused. Henceforth: our annual Garage Sale to benefit a non-profit!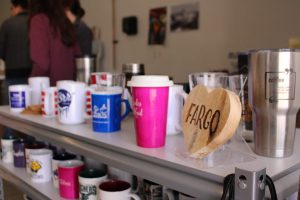 If you follow us on Facebook, you may have seen our recent post calling for you to nominate your favorite local non-profit. We do this because at our garage sale, we don't price any of our products. We simply ask for a free-will donation, and 100% of the proceeds from the sale go to the non-profit you voted for. This year, we're proud to announce a very deserving non-profit and the recipient of our proceeds: Hopeful Heart Project.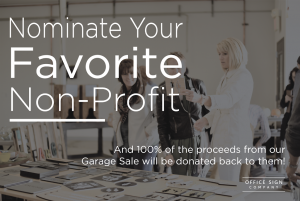 It was overwhelming for us to see the engagement on our post from our local community. We read through every comment, counted every vote, and we're honored to live in such a giving community; we are excited to be partnering with the chosen non-profit this year. Hopeful Heart Project is dedicated to helping parents who have suffered the loss of a child. They provide hope, support, healing, and love to these individuals, and this fundraiser is just one way that you can also contribute. For those who would like to learn more about Hopeful Heart Project, be sure to visit their site. Their mission is incredible, and they do award-worthy work.
The details of our fundraiser can be found below, and we would love to see you there! Bring your friends, take your coworkers out for a stroll on your lunch break, and check out all of the fun products we have to offer knowing that 100% of the proceeds will be donated back to Hopeful Heart Project.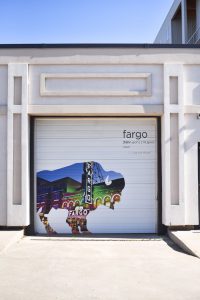 When

: Thursday, May 30th

Time

: 11:00 am – 3:00 pm

Where

: 310 NP Ave. N (the garage attached to our building)

What

: OSC holds a garage sale every Spring to sell any leftover products or "prototypes" that we no longer sell! The products range from coffee mugs, to office signs, to t-shirts and anything in between. These products are not priced. Each customer is asked to leave a free-will donation to benefit our non-profit of choice. With that, Hopeful Heart Project will receive 100% of the proceeds from this event.
Thank you to everyone who voted, and be sure to pay Office Sign Company's garage a visit on May 30th – we hope to see you all there!
Written by: Rylee Wznick