We are a very fortunate company to be able to live and work in an outstanding community. The downtown community, especially, is one that we have been so privileged to grow and network in. With that, we'd like to highlight an awesome example of this community in today's #FridayFeature – Kilbourne Group.
Kilbourne Group of downtown Fargo is an organization made up of redevelopers, designers, and more with a passion to invest, build, and restore our community. Not only are they working to provide space for businesses and apartments, but the historic value of our city is always front of mind. Read about the the work they are doing to restore and renovate the Black Building here, and to get a better idea of the impact they have on Fargo-Moorhead (and the Great Plains in general) check out their website!
We love our local relationships at Office Sign Company, and the downtown community is continually helping us to build on our capabilities and expand our network. We've worked with Kilbourne Group on a variety of projects in the past, and it's always a pleasant exchange with their team. They are quick, thorough and appreciative, and we look forward to working with reputable businesses such as them. Below are a few examples of some fun custom and vinylprojects we've facilitated!
The Loretta building is a beautiful space located in the heart of downtown Fargo where a few businesses, including Kilbourne Group, call home! One of our recent installs at the Loretta building was multiple frosted vinyl panels showcasing the Red River. We also produced these custom "Passerby" art tags which were printed on 1/8″ clear acrylic art placards using our flatbed printer. If you'd like a custom design to conceal your conference room, or if you're looking to add "Passerby" art tags to your lobby, look into requesting a quotefrom Office Sign Company, and we'll get a that and a proof over in no time.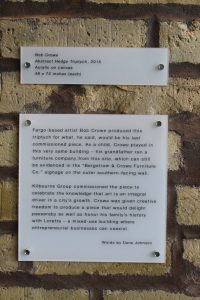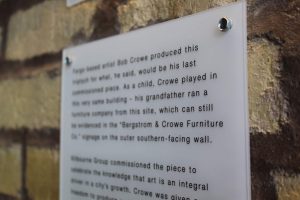 Custom sign in mind? Contact us here!

Bike Vinyl
This bike vinyl located in Robert's Alley, downtown Fargo, was installed a few summers back to welcome our biking community to free parking and repair space! We always enjoy hearing Kilbourne Group's creative ideas to beautify our downtown, and we're grateful to play a small role in that.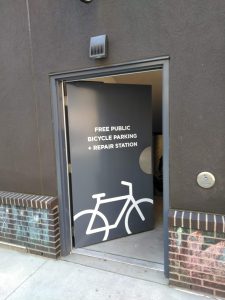 Cut Vinyl Door Lettering – find it here!
Thank you to Kilbourne Group for serving as an awesome community partner, and for all of the work you do to ensure Fargo's historic beauty is restored. We're grateful to work with you! Stay tuned for our next #FridayFeature post highlighting more influential businesses in our area.