It's been a hell of a summer. We've made new friends in Fargo and beyond, expanded our capabilities through the procurement of new machinery, bolstered our staff, and had one of the busiest three month stretches in the company's history. Oh, we also hit our 10 Year Anniversary on August 1st. Lost in all the craziness that was this summer, we were able to be involved in some pretty awesome vinyl wrap projects in the Fargo, Moorhead area.
In this month's blog, we wanted to take some time to celebrate the amazing work of our vinyl department. Though we'll take all the office sign, desk sign, name badge, and directory business we can get, there's a great sense of pride felt by the entire company when we're able to beautify established spaces with a fresh design. Here are a few of our favorite wrap projects that our crew installed this summer…
#1: The Downtown Utility Boxes
We were approached by Chris from BID, Melissa from Downtown Community Partnership, and Dayna from The Arts Partnership back in early March in relation to their desire to add more art on Broadway in DT Fargo. We walked up and down the street, getting measurements of the utility boxes and preparing for the wraps, which included unique works from Fargo-based artists.
As sponsors of this project, it has a special place in the hearts of our company. We, too, believe that signage has the power to beautify spaces, and to merge that with the work of local artists was a truly great feeling. We wrapped 7 different boxes in total stretching from NP Avenue to 6th Avenue North. These pieces have become a popular attraction for both residents and visitors, and our heart warms every time we see photos being shared on Instagram or Twitter of the work.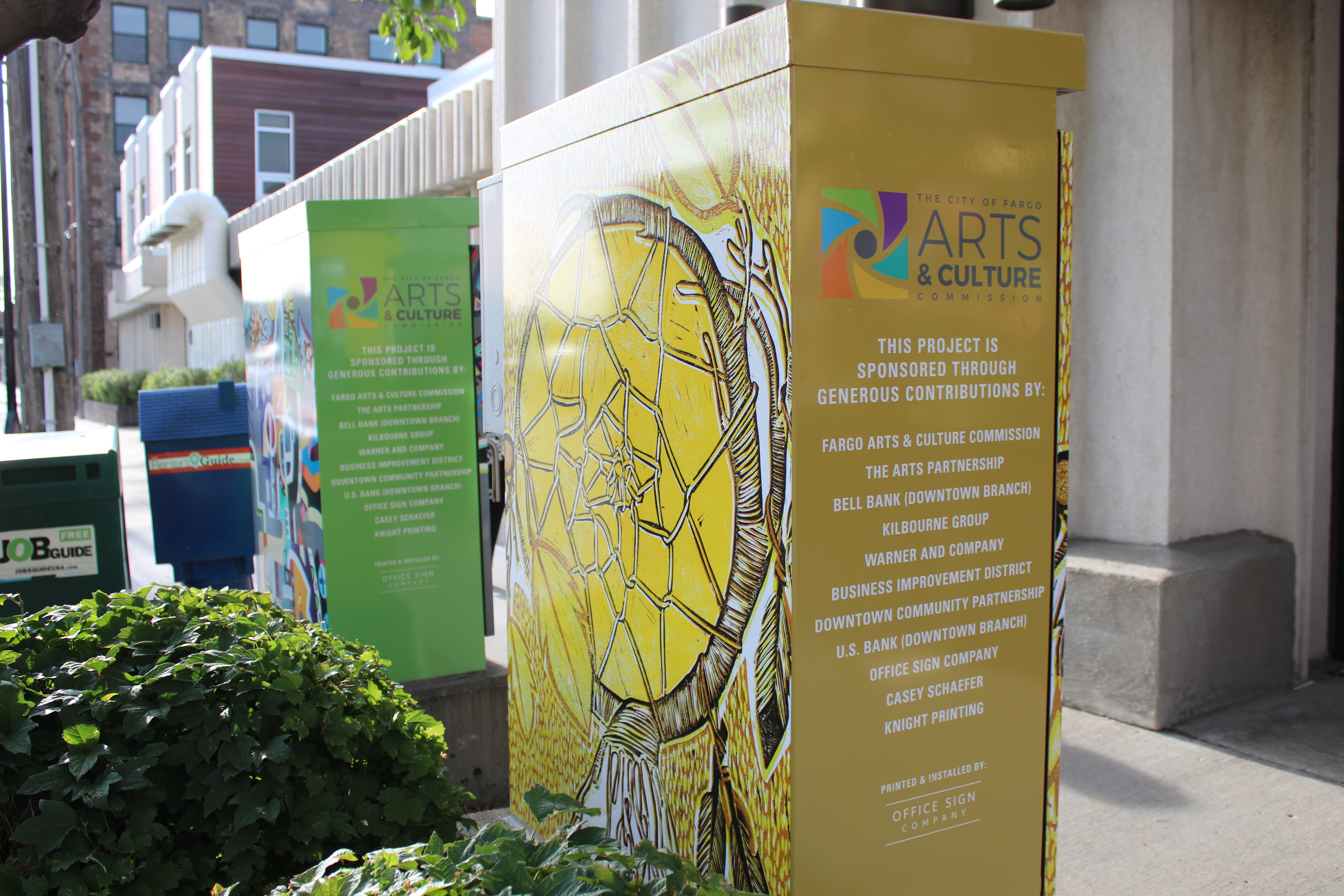 #2 – The NDSU Depot Train Wrap
Continuing on in a great (and recent) tradition of wrapping train cars at the Depot Station, we were able to collaborate with NDSU, Fargo Parks, and Steve Knutson (the artist) to produce this beautiful piece right along Main Avenue in Fargo. We were approached all the way back in January by Troy from North Dakota State University with the idea, and were happy to see this project come to life with the amazing design by Steve Knutson. As always, Fargo Parks was a treat to work with, and NDSU was able to capture some incredible footage by setting up GoPros.
The Fargo weather gods were also a huge help, as our typical wind posed no issue for our install team, and we were able to complete this project in just about eight cumulative hours. Walking outside of Rhombus Guys at night to see groups huddled in front of the train taking pictures just reminds us of why we do what we do: because signage and art improves lives. For real.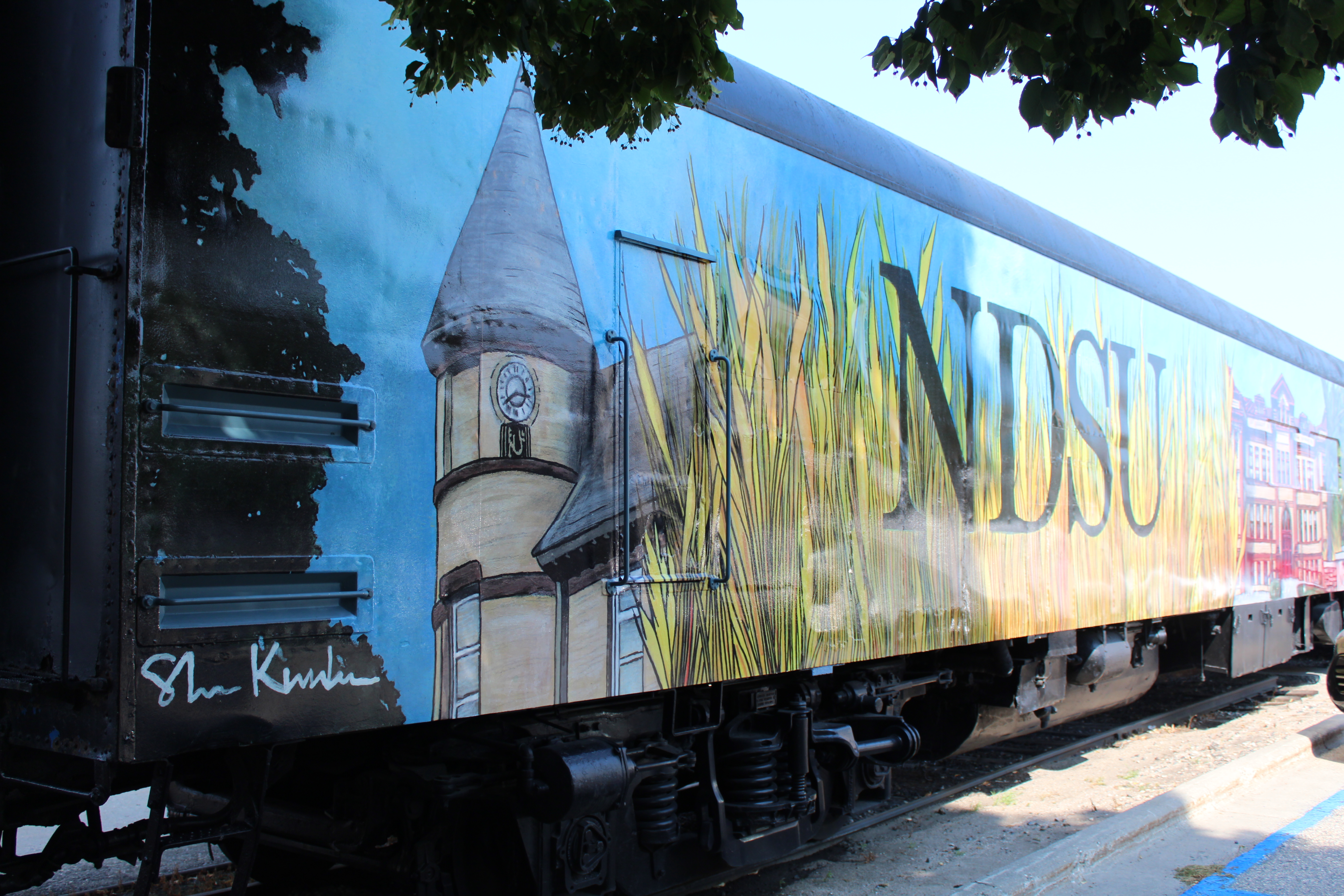 #3 – The Silver Lining Creamery Wall
Last, but certainly not least, was our wrapping of the Silver Lining Creamery wall, which has turned into a staple of the Downtown Fargo arts environment. Michelle, who's ice cream shop didn't even come to Fargo until this May, was inspired by angel wings she had seen in Nashville, TN and wanted to try it out here. We got to work on designing the wings from scratch (shout out to our Art Manager, Sandie Kuehn) and the process moved extremely quickly. I believe we sent an original proof on a Monday, a revised proof on a Tuesday, printed the pieces on that Wednesday, and were installing by that Friday. It's nice when everything goes off without a hitch!
The wings have been popular for virtually everyone in Fargo – including our own staffers (as seen below). Being able to work with an ice cream shop also meant a lot of malts & ice cream cones were consumed in the process. It was a joy being able to work with this new business, and even more joyous to see people parking up in front of this wall with their dog leashes and ice cream cones in either hand. Take a pic and send it to us the next time you're downtown!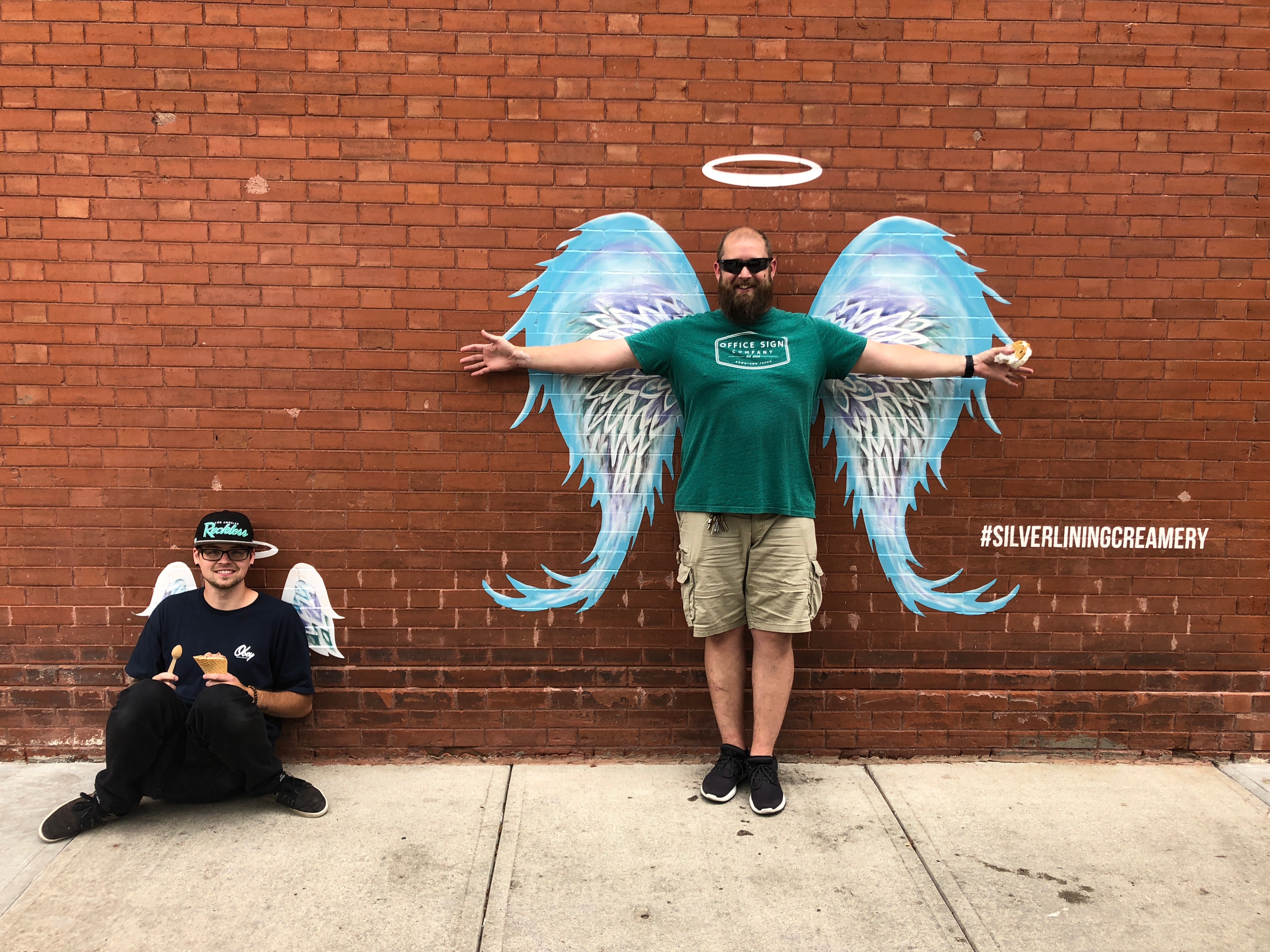 We want to send a sincere thank you to all of our customers (national, and local) for helping us enjoy such a great summer. You've kept our staff extremely busy, and for that, we're grateful. And THANK YOU for helping us roll in on our 10th year of business in style. We'll look forward to producing many more office signs, custom sign solutions, and vinyl wraps for you and your business in the next ten, too.
Cheers!
Written by: Jack Yakowicz
Marketing Director at Office Sign Company