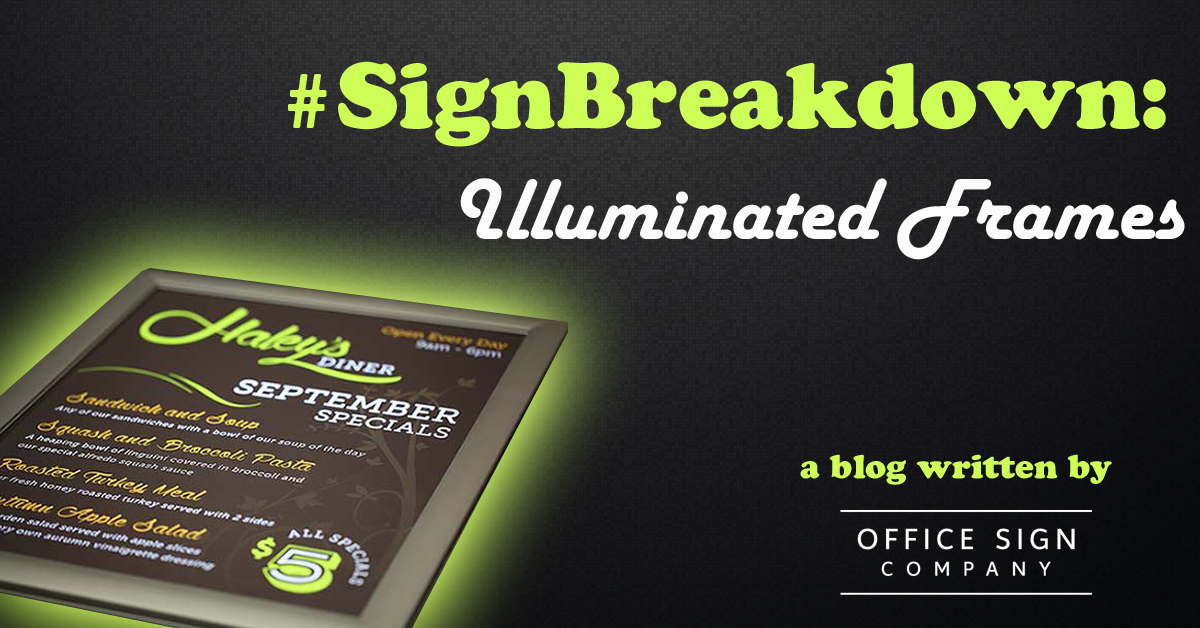 When I first started at Office Sign Company, I had no idea how many varieties of signs existed. Silly as it may sound, you really don't start noticing signs until you're working for a company that sells them. One of the sign variations that enticed me the most was our "Illuminated Sign." The concept behind the sign is impressively simple; a 1" thick profile LED diffusion panel and a translucent vinyl insert that closes into a brushed silver snap frame. Easy, right? The best part about this product is that the vinyl graphics are affordable enough to substitute semi-regularly. In this episode of our "Sign Breakdown," we are going to weigh the pros & cons of this unique product, and offer a few application suggestions for any interested users.
Pros
Eye-Catching. One of the initial benefits you will notice after purchase of this sign is that they really can grab your customers' attention. Graphics that otherwise may have looked flat and dull to the naked eye will now pop out with this translucent graphic and light up frame. With that being said, it's important to note that the graphics inserted in this frame should be meaningful and worthy of the attention they will indubitably receive. Our talented graphic design team will happily assist in the creation of the translucent graphics that will be inserted into the sign!
Long lasting. These sign frames will certainly last the test of time. Although we have sold these to organizations for one-time events in the past, we would almost recommend that these frames are treated as more of an investment that will accrue additional usage as time goes on. The frames boast a 50,000-hour bulb life and the easy plug in feature allows for that bulb life to be preserved even longer. Furthermore, a one-year warranty is supplied with this frame.
Easy to Install. The Illuminated Frame itself is fairly easy to mount on the wall–hardware is even included at no charge to assist with this mount. Not only is the frame easy to install, but installing translucent graphics inside of the frame is also a seamless install job. Simply open the clasps on all four sides of the frame, lay the graphic flat in the insert slot, and close the sides back down. With little-to-no effort your illuminated frame will be ready to use.
Multi-functional. There are a plethora of uses for this sign. When sitting down with our team while first examining this product and wondering how to prototype it, we were almost stuck – there were so many directions to go! We have most recently used this sign (the one seen below) at a networking event to display our company's graphics. We have also seen this used as restaurant menus, home theatre movie posters, and more. Really, sky is the limit when it comes to this product's uses. The Illuminated Frame is great for any graphic that you really want to light up the office!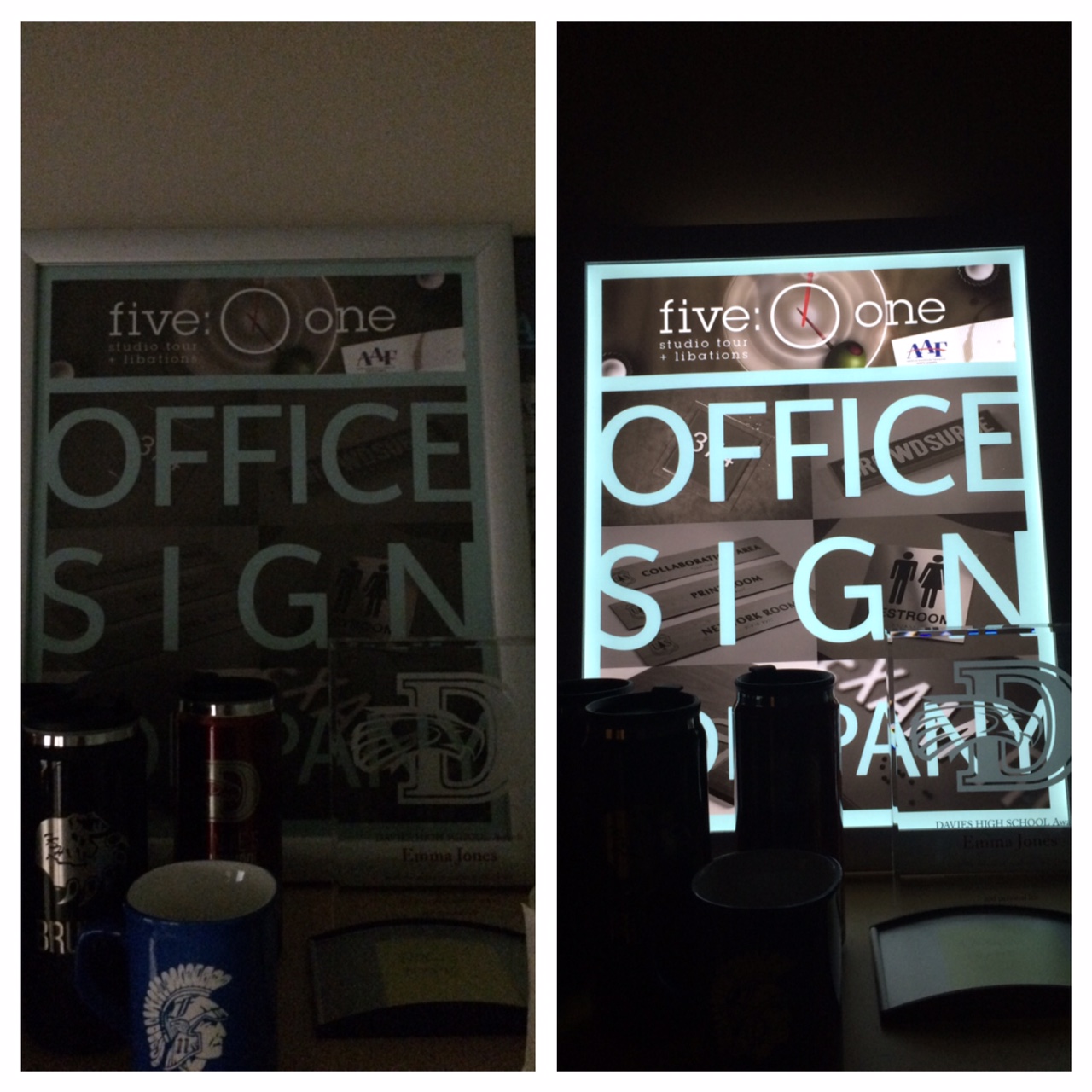 (Left: Illuminated Frame while not plugged in. Right: Illuminated Frame while plugged in)
Cons
Not cheap. Let me preface this with a deal. If you made it this far into the product description, you deserve a discount code. Enter the code ILLUMINATE after adding an Illuminated Sign Frame, Graphic, or Illuminated Sign Frame & Graphic and receive 10% off the base price! Okay, now I'll actually take time to examine this point. The sign frame is not cheap, however, as far as light-up signs go–it is pretty affordable. The frame prices start at $156.00 and go up based on the size of your frame. However, one thing to note is that this really is an investment (like all signs are, in a way). The graphics that you display in your business are vital as you make an impression on customers, clients, and more. The Illuminated Frame is just another example of a sign that will go a long way in making a positive impression on your future stakeholders. The versatility of this product makes it worth it in the long run as well. This truly is a product that you can use over, and over again. Although it is not cheap, sometimes you need to pay for quality. This is one of those times.
Plug-in. In order to take in the glory that is the Illuminated Frame, it needs to be plugged in. For businesses who are wary of their energy usage, this could be a bit of a concern. A second concern is the visibility of the plug. There are ways to hide the plug; for example, we have our illuminated sign on top of a shelving unit, and hid the plug behind the back of the unit. For people who want to mount these on the wall, we have also seen these being mounted right in front of an electrical outlet, and the plug strategically hidden behind the illuminated graphic. Ultimately, you can work around the issue of the plug.
Applications
Directories. One of the most important uses of any sign is utilizing it as a wayfinding device. That being said, it is of major importance for a company to be able to direct its customers to various parts of the building with sharp looking signage. In order to catch your customers' attention, signs that light up and catch their eye can be a huge asset. These Illuminated Frames would make a great directory.
Branding. As seen in the picture above, we use our Illuminated Frame to simply display our company's name. Having a sign that catches people's attention AND shows off your logo? Brilliant. These illuminated products can certainly be looked upon as a great investment in your branding efforts.
Emergency exit information. Located within almost any public facility is a small poster with emergency exit information. Just like exit signage is typically lit-up, illuminating a poster which shows the emergency exit information or other security codes within the building would be a great way to draw occupants' attention to important information.
Menus. Menus were our first use of this product (as you will notice in our prototype photos). We made a handful of menus for a chef's event, and illuminating the menus simply made for a more appealing graphic. In fast food restaurants, bistros, and other small eateries, light-up signage displaying menus is a great sign solution.
Movie Posters. Whether it's a home theater, or a cinema, posters are hugely important. Why not print these posters on a translucent graphic and install them into a light-up frame? This is a fantastic way to display the movies that are on display, some of your favorite films, etc. As a movie buff myself, I would love to see more people use the Illuminated Frame to display some movie graphics.
More. Truthfully, you can do just about anything with this product. It's versatility makes it a perfect addition to any office place, retail center, restaurant, and more! How would you use this product with your office?!
Want to learn more about our illuminated signs? Ask us questions on Facebook, Twitter, Google+, or Instagram. We would be happy to educate you further on this revolutionary product!
Written By: Jack Yakowicz
Account Manager at Office Sign Company
Contact at jack@officesigncompany.com