Operating as a sign company in the center of downtown Fargo, our office space is a virtual showroom—a walk-through catalog of the various signage solutions we have to offer. To be a sign manufacturer, you have to have some pretty awesome signage in your headquarter building – right? If you walk through 310 NP Avenue, you will notice all kinds of interesting vinyls, woodworkings, and brushed silver signs that serve as a testament to the quality signage we have to offer. For this week's blog, I figured I would give you all a little sample of some of the signs—nay—the art that I get to look at every day! It pays to work for a sign company.
The Reclaimed Wood Award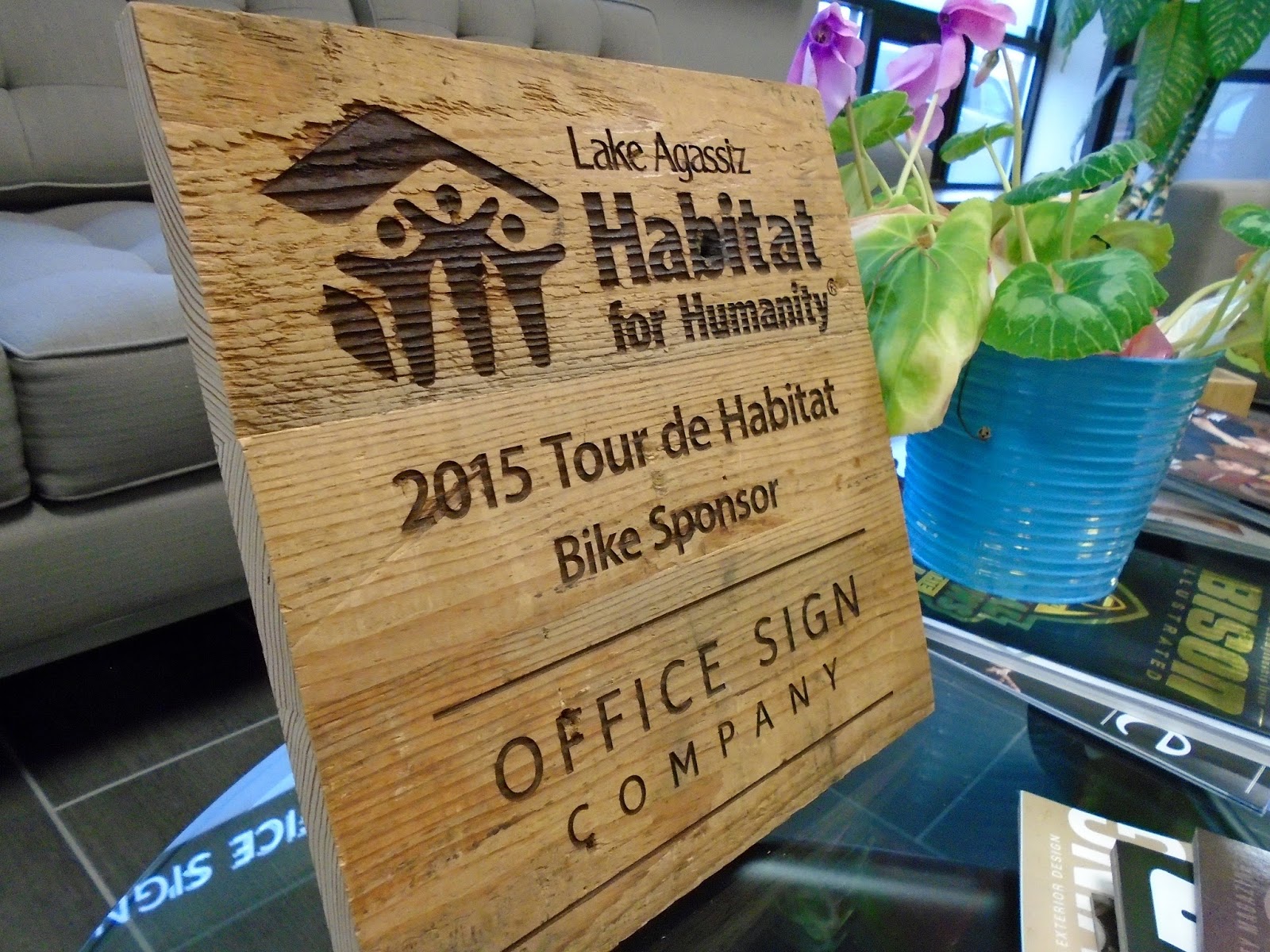 The first sign I want to show you is an award that we manufactured out of reclaimed wood. Serving as a sponsor for an event put on by Lake Agassiz Habitat for Humanity, we were tasked with the exhilarating role of creating plaques/awards to provide to the other event sponsors. Looking for an affordable sign solution which was unique and had character, we settled on an award made from reclaimed wood. Since reclaimed wood is relatively cheap to acquire, the most costly part of producing these signs was the labor/machine time for engraving. After engraving the wood, we masked the wood base and stained the engraved letters and logos to appear darker and richer. To complete the award, we drilled a large metal bolt in to the back of the wood base to help the plaque stand up on its own. This made the list as one of my favorite signs from around the office because of how unique it is, more than anything. Also, I'm a sucker for reclaimed wood.
The Etched Vinyl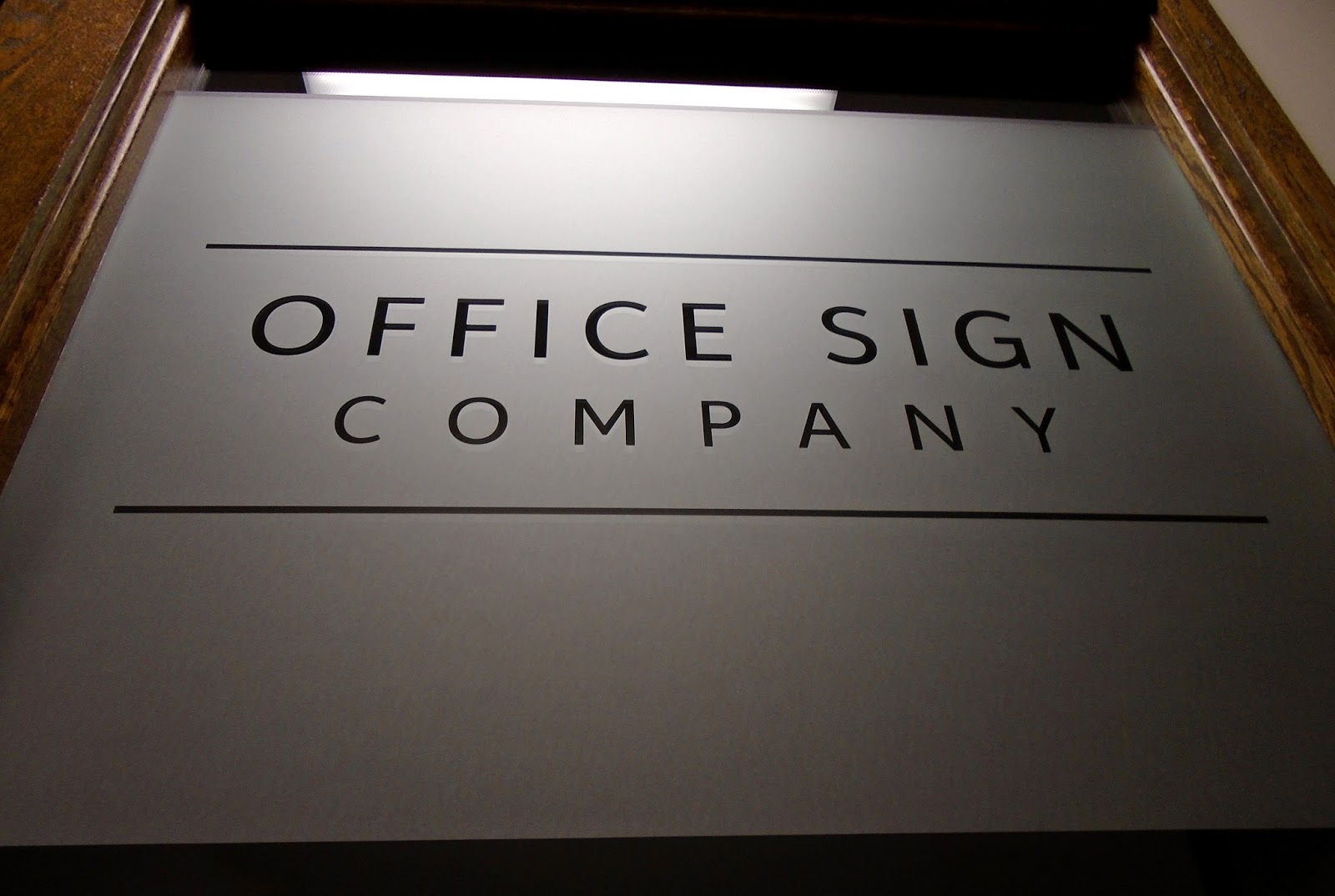 One of our most popular items, especially with clients around the F-M area, is our etched vinyl. This product looks incredible on exterior glass, conference room windows, and just about anywhere else! We are able to cut logos, text, shapes, etc. into the vinyl as well, and can apply it as either first surface (on the outside of the window) or second surface (on the inside). The reason I picked this as one of my favorites is simply based on how elegant it looks. Whenever I am bringing a client into our conference room, I feel as though they get a great impression of our business right off the bat.
The Cut Letter Logo Sign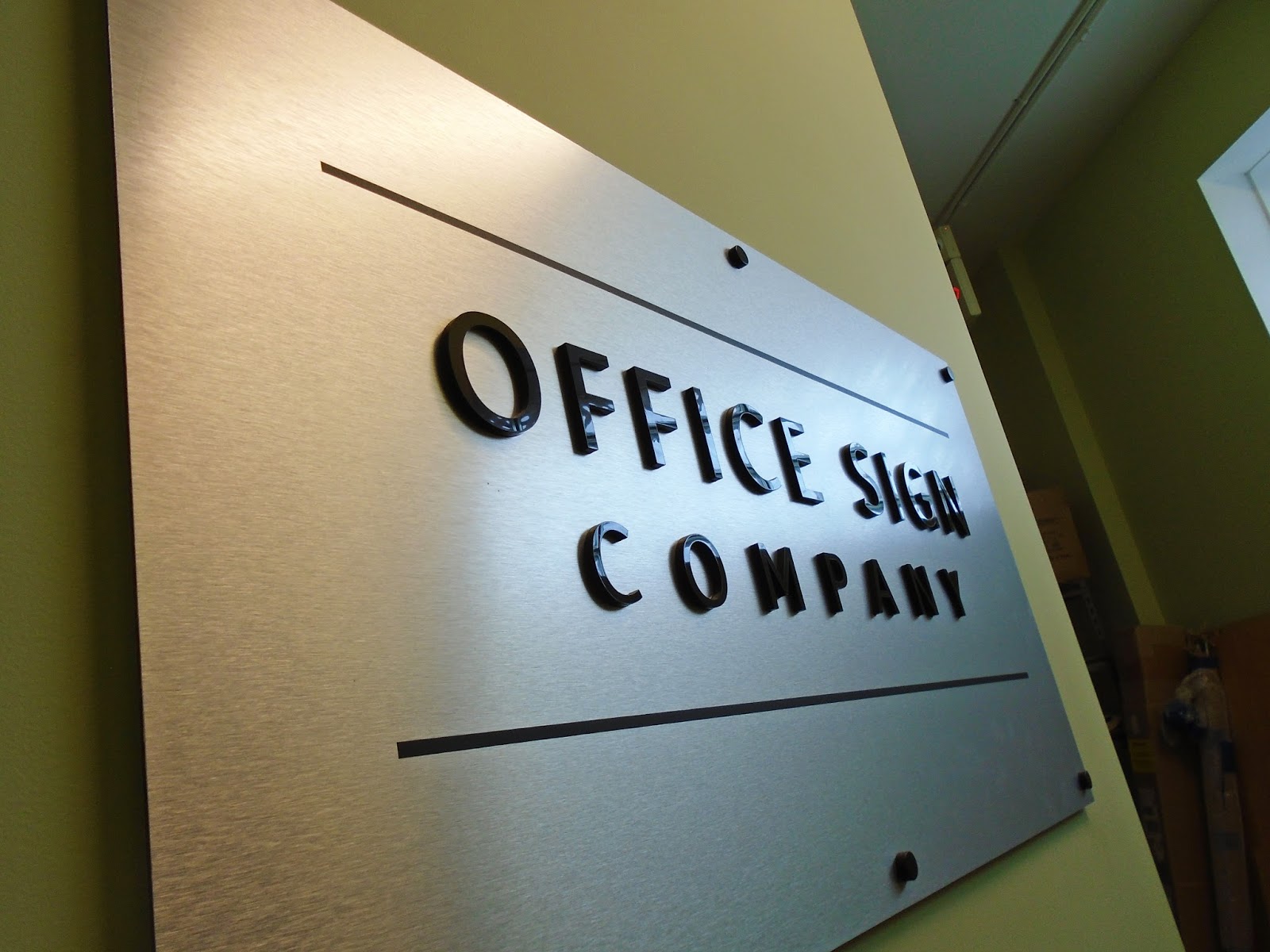 This one is fun. Right when I walk in the door every morning, this is the first sign I see—a brushed silver sign with black, acrylic lettering and stand-offs for mounting. The thin black lines, part of our logo at Office Sign Company, were made using vinyl. However, they could have also been made using raised acrylic or being engraved into the silver base. What stands out to me about this sign is the stand-offs used for mounting. I think this small addition to the sign makes a world of difference, and if this had just incorporated a run-of-the-mill screw mount or VHB mount, this sign wouldn't be quite as impressive. Everything comes together to make one awesome sign, and eye candy for me every morning.
The Two Tone Wood Sign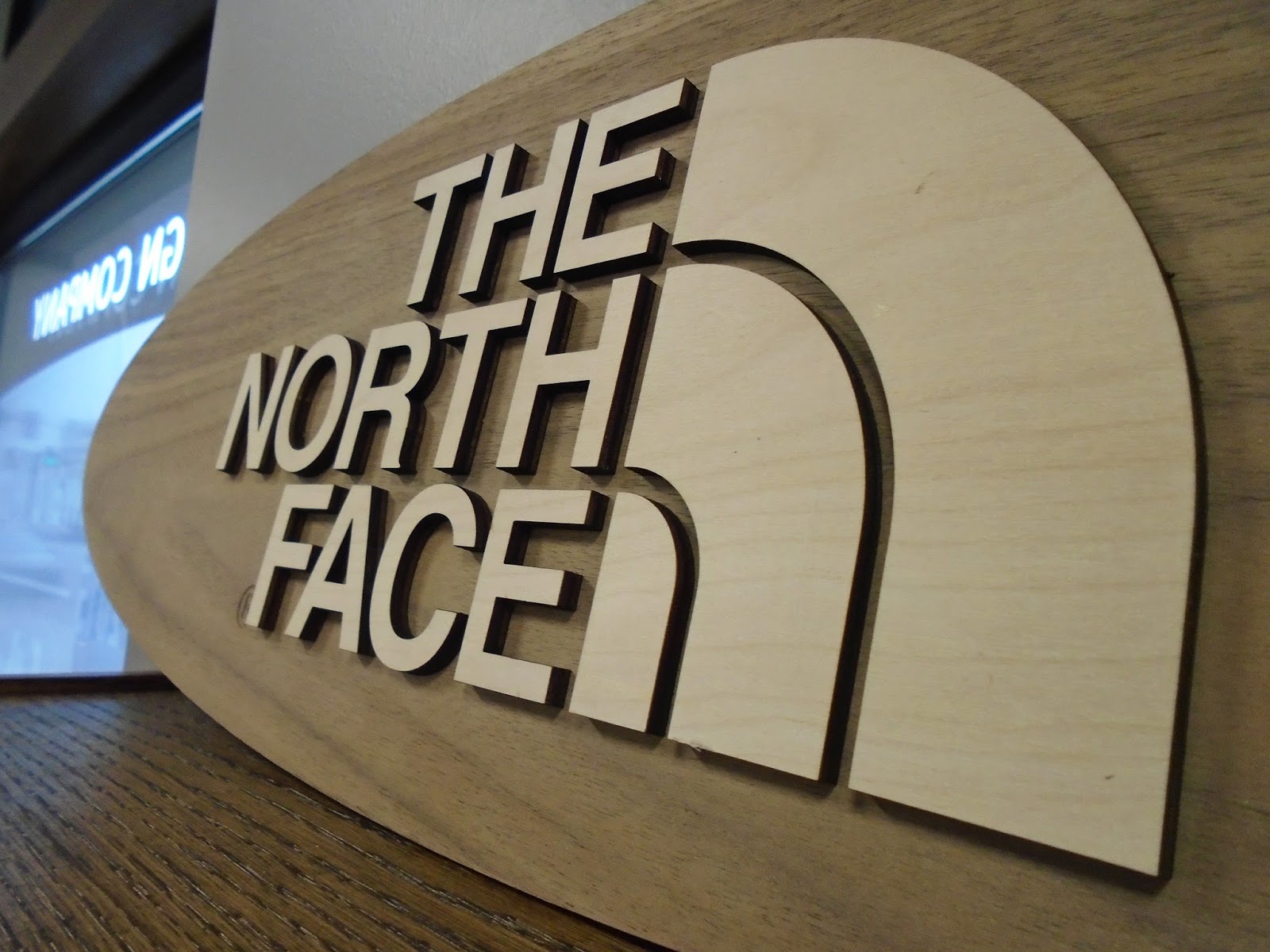 Another dimensional piece, what makes this sign so cool can be said in three words: two. tone. wood. We keep this sign on exhibit in our front lobby, as it was a piece that we originally made for Fargo's Scheels store. The contrast between light and dark wood makes for a beautiful custom fit in our office, and a creative sign solution for a variety of companies. I'll be honest—this sign isn't exactly cheap. However, it does demand your attention. Smaller two tone wood signs could be used as door markers, name plates, and more. The shapes that are used for this sign are routed out, and the finish is perfect. I love showing this item off to people who visit our office.
The Fargo Garage Vinyl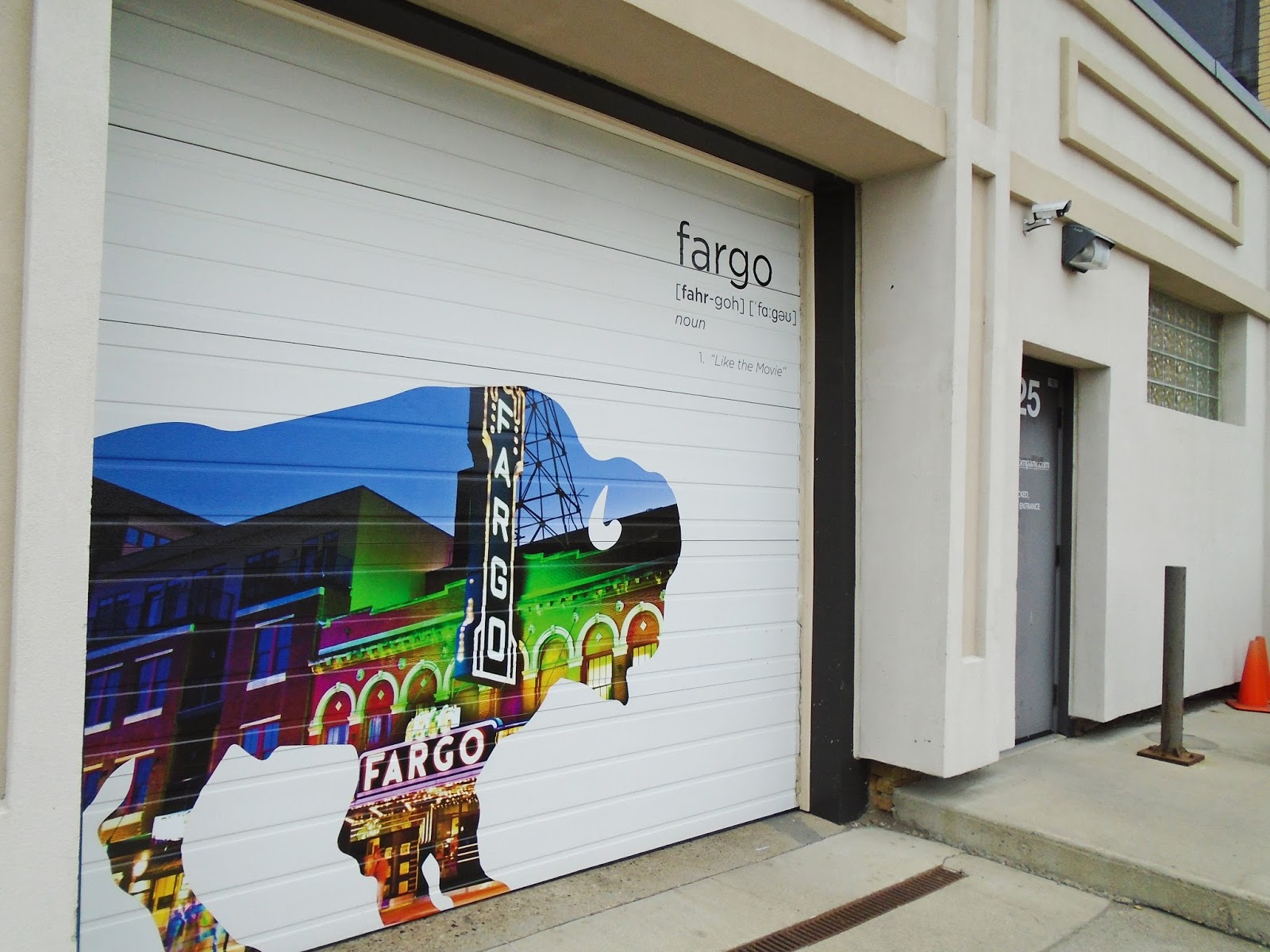 Ok, I lied—this is actually the first thing I see when I get to work in the mornings. A few weeks back on our Facebook page, we hosted a contest in which we had our designers create images that could go on our garage stall. This design, made by our talented graphic designer, Chelsie, was crowned as the victor in our contest. Her design is an ode to the comment that all of us Fargoans receive when in new cities: "Oh, you're from Fargo? Like the movie?" Yes, like the movie. And, just like the movie, this design is awesome. We wanted to spruce up our garage stall, and a digitally printed vinyl was just the trick! This makes our company stand out, in an otherwise boring back alley. I love this sign.
Want to see more? Follow us on Facebook, Twitter, Google+, and Instagram for behind-the-scenes looks at some of our cool items around the office, as well as some of the prototypes we are working on. If you have any ideas for new sign products, too, we'd love to hear them! Send us a message on any of the aforementioned social media venues. Thank you!
Written By: Jack Yakowicz, 
Account Manager at Office Sign Company
Contact at: jack@officesigncompany.com