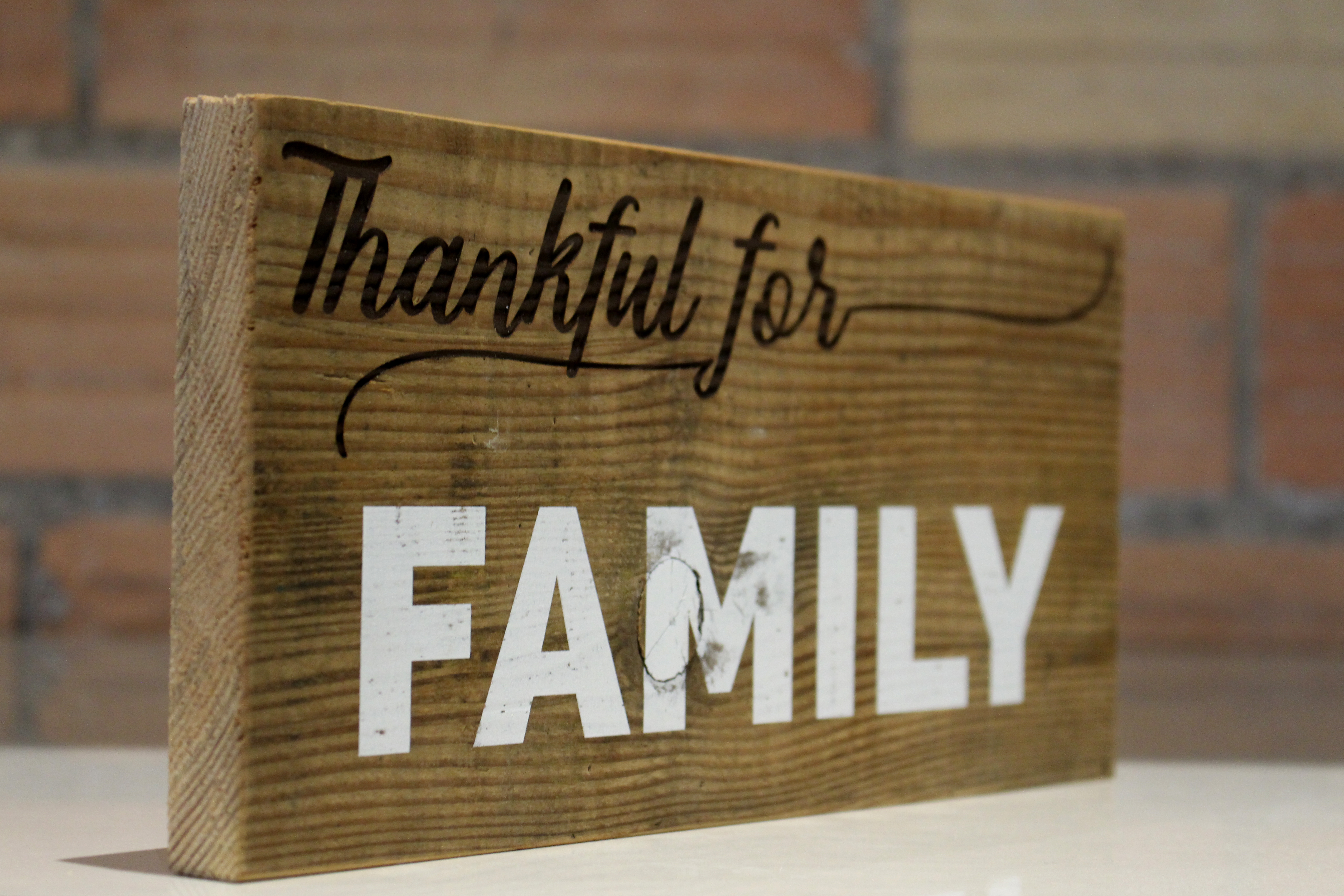 It's been an awesome year. We've added some great new employees, connected with a variety of new clients, grown local business by over 200%, and had our most profitable summer of sales to date. We have a lot to be thankful for, and were inspired by the season of sharing gratitude to share ours in a unique way…
From November 10th – December 15th, we will be offering Thankful Reclaimed Wood Signs with customizable text on our website. These laser-engraved and UV-printed signs will allow customers to share their own message for what they are thankful for, and come complete with a sawtooth hanger on the backside for mounting to a wall in your office, kitchen, living room, and more.
Details About The Product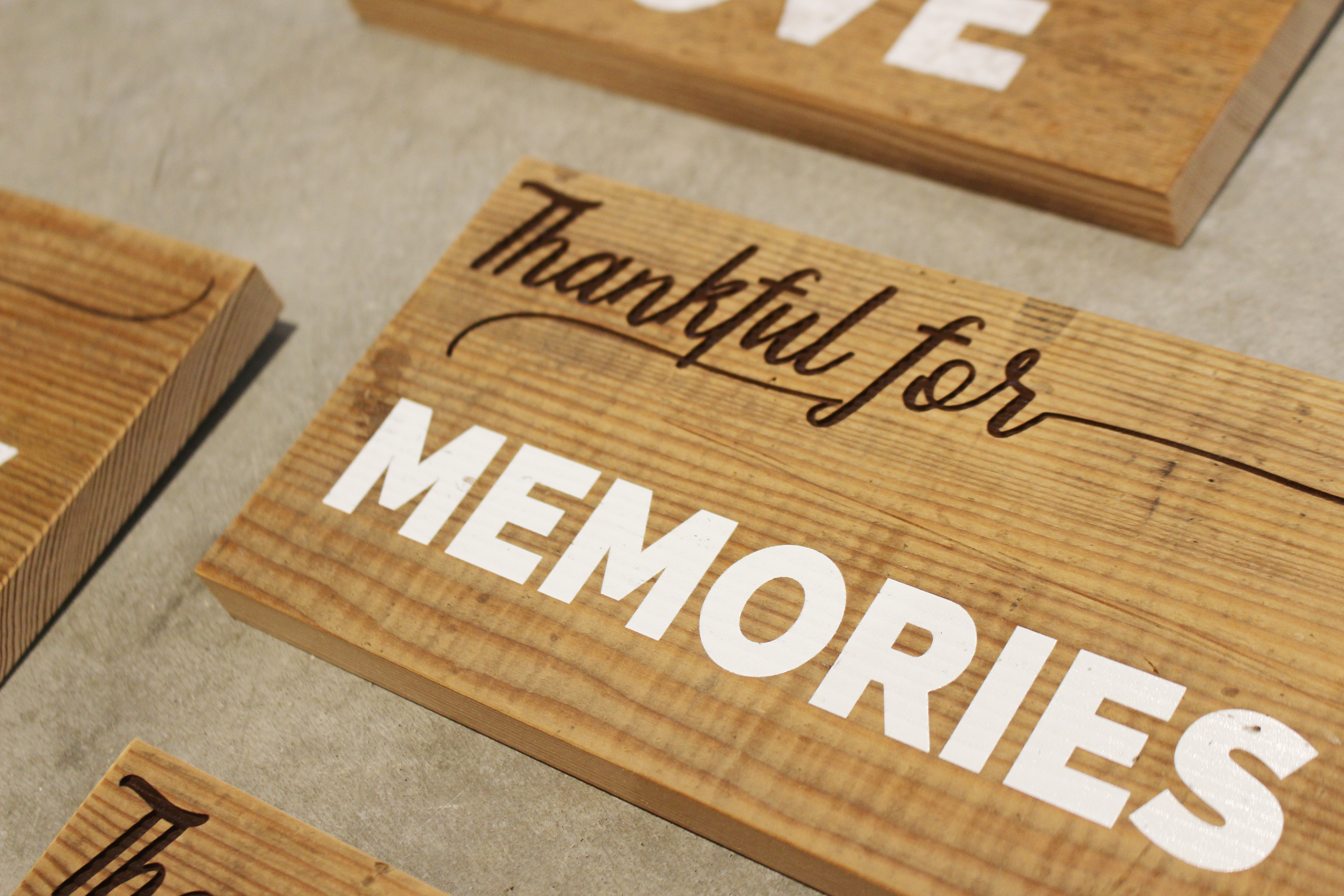 Our Reclaimed Wood Thankful Signs are fabricated and finished in our production facility in the Industrial Park of North Fargo. As we planned on this campaign, we wanted to make sure the product we were manufacturing would be as high quality as it was unique, understanding that this special piece would likely end up hanging in the houses and offices of a variety of different community members. The prototype process revolved around a few design iterations before we landed our completed product. Details are as follows:
Size = 10″w x 5″h x 1″d
Reclaimed Wood (as is the nature with reclaimed wood, every piece will be slightly different!)
Laser Engraved Text ("Thankful for" text line, that stays standard and cannot be customized)
UV Printed White Ink Text ("MEMORIES" portion seen in photo above, which can be customized to what you see fit)
Sawtooth Hangers affixed to the backside of this sign (for hanging on nails, like a picture frame)
If you have any additional questions as to what this product is made of, or how it will look when complete, we'd encourage you to visit this page or call our customer service team at 701-526-3835. You can also request a digital proof with your order, so you'll be sent an image of what this will look like prior to the order being produced!
Details About The Campaign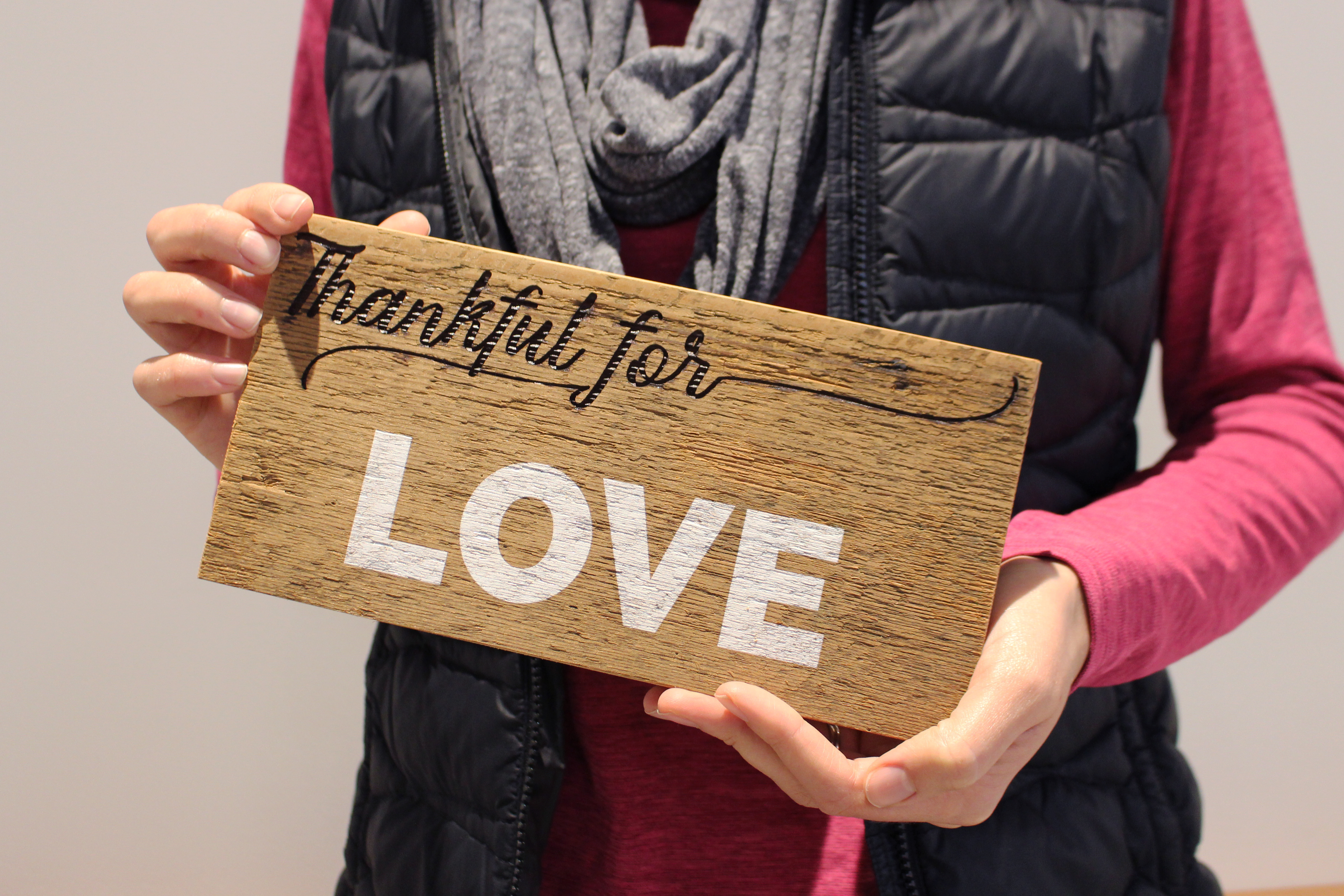 It was our hope to share our gratitude by connecting with a non-profit doing awesome work in our community. Having built a close connection with the United Way, and whole-heartedly believing in their mission to reduce hunger and homelessness, prepare children to succeed, help people be independent, and lift people out of poverty, we were extremely excited to present this idea to the United Way team and get them on board. Here are some details related to the campaign:
Thankful Reclaimed Signs can be purchase here: officesigncompany.com/unitedway
You can enter your custom text in the box where it reads "Your Personalized Text (white ink portion of sign):"
You may select a digital proof checkbox if you'd like to see what the sign will look like prior to purchase.
Your sign will take approximately 3 business days to produce (call us at 701-526-3835 if you need this expedited, or have questions on timeline).
$10 from the sale of each sign (50% of proceeds) will be donated to United Way Cass-Clay at the end of the campaign.
The campaign will run from November 10th – December 15th.
We'd love you to SHARE your thankful sign photo after you've received it on Twitter, Facebook, or Instagram!
Thank you for engaging with our campaign, and learning more about what we are trying to accomplish! We hope to see a variety of designs come through – people thankful for their friends and family, people thankful for the community of Fargo, people thankful for United Way, and more! Please contact us with any questions or concerns you have, or if you'd like to help us further this campaign!
Written by: OSC Marketing Team
Contact at: marketing@officesigncompany.com
www.officesigncompany.com