Happy #FridayFeature PROMOTIONS edition! We are excited to re-introduce some familiar faces on the Office Sign Company team – now in some new roles! We decided to start off with our new Sales & Marketing Manager who has been rocking her new role for a couple of weeks now. We are proud to present #FridayFeature PROMOTIONS – Meet Kaley!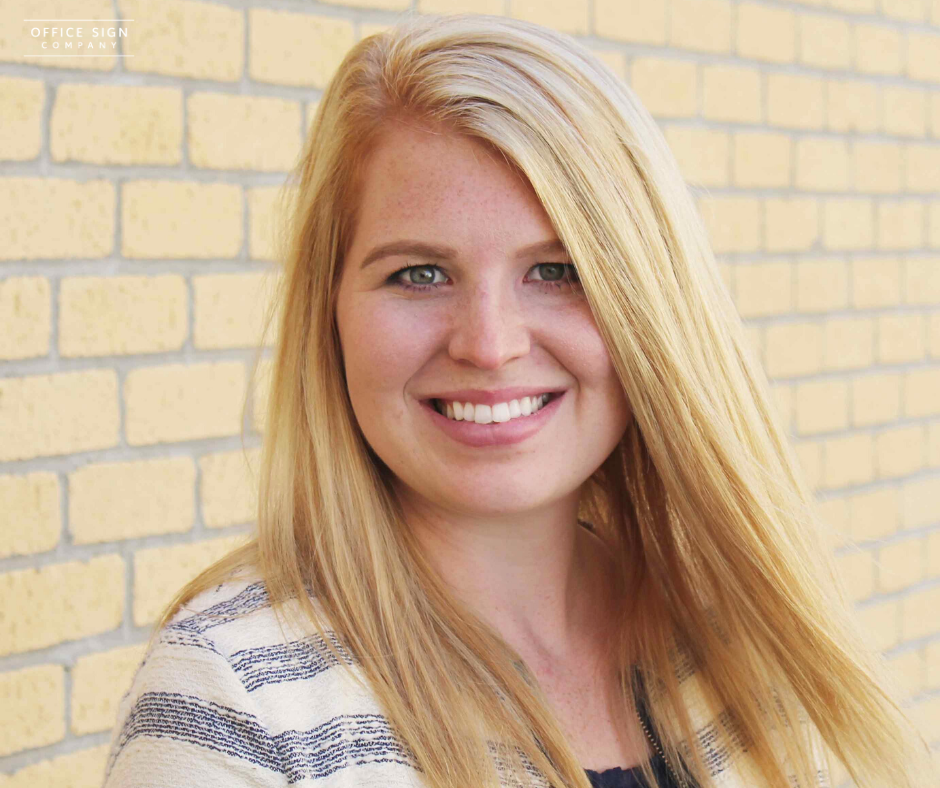 What's your name?
Where are you originally from?
What's your current position at Office Sign Company?

Sales & Marketing Manager

Can you tell us what all that will entail? 

Working to grow our online & local sales! I'll be working on our client relationship management, marketing presence and public relations to oversee the day-to-day needs of our Sales & Marketing Department. It may require a few dance parties in the hallway & last minute caffeine runs for the team! 

Did you attend college? Yes. If so: 

When did you graduate? 2013
From where? North Dakota State University
What degree did you pursue? Hospitality & Tourism Management with a Minor in Business Administration

What role were you in previously?
Ten years ago, who did you think you would be now?

Driving race cars…just kidding. I've always known my life would be fulfilled by helping others in any capacity. I enjoy working with clients through every phase of their project & staff through every phase of their career. 

People would be surprised to know that you can….

Solemn ski! I'm no professional, but I can do it! 

What is the weirdest job you've ever had?

Oh gosh….hmmm. My jobs have all been pretty standard. One time in the hospitality industry I drew out a specific hotel room & laid out all of the furniture, the direction of the window & where the pipes ran to make sure the feng shui was just right. I ended up Facebook friends with that guest & we've kept in touch since. 

If you won the lottery, what would you do first?

Put the money in the bank & keep on living! Oh..and buy a Camaro. 

What are three words you'd use to describe Office Sign Company?

Quality, Family-centric, Passionate

What show are you currently watching on Netflix?

Nothing currently. I'll watch Grey's Anatomy on repeat & I do keep up with the Bachelor (oofta). 

When I'm not at OSC, you can find me….

With my 2.5 year old son & husband doing whatever a 2.5 year old wants to do!

When you have 30 minutes of free-time, how do you pass the time?

There is no such free time with a 2.5 year old! Okay – likely cleaning, laundry, or reading whichever book I am into at the time. 

What advice would you give to people trying to get into your profession?

1. Dress for Success.
2. Dive into everything & anything that will expand your knowledge & experience.
3. Don't be afraid to push yourself outside of your comfort zone & say yes to new territories, it will open up huge opportunities in your career.
4. Find the why in everything you do, no matter how small the task is, know your why.
5. A quote I ran into that I felt was very important was, "Never let success get to your head; never let failure get to your heart."
Thank you for tuning in to our #FridayFeature PROMOTIONS – Meet Kaley! We are so proud of all that Kaley has accomplished and can't wait to see what she will bring to our marketing team! The possibilities are endless – who knows, we might even have a solemn ski team soon! With any questions about our products, services or career opportunities, be sure to reach us via email or give us a call at 701.526.3835 – Congratulations on your promotion, Kaley!