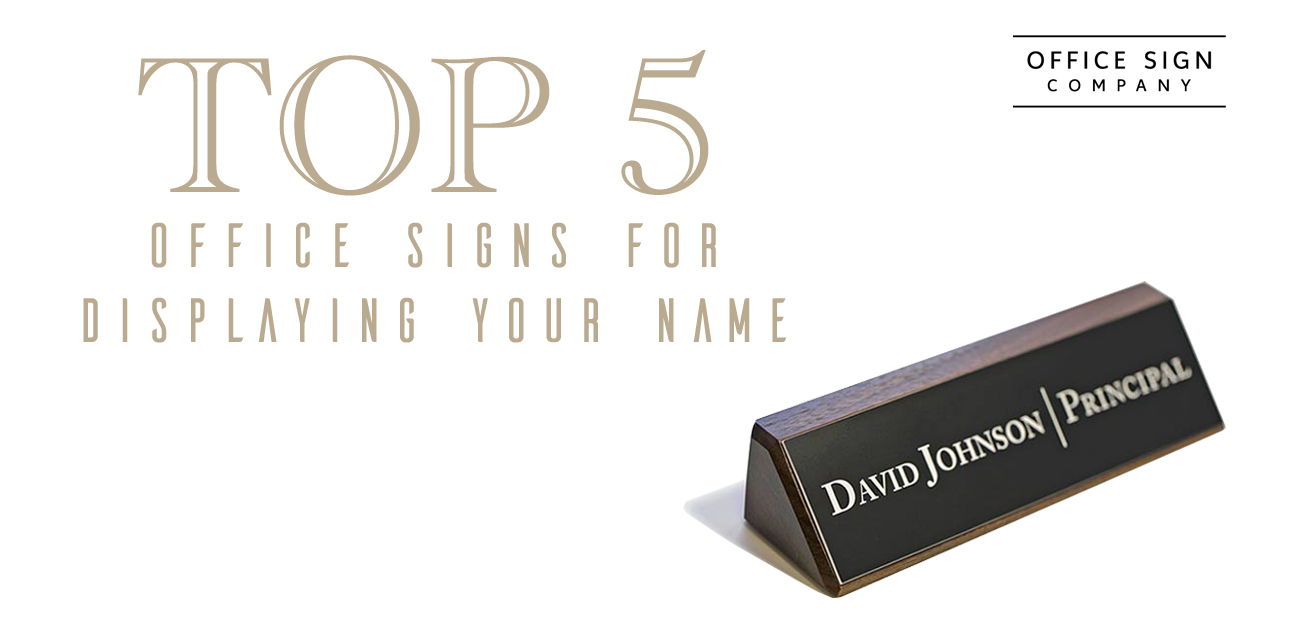 A wise man once told me that the most valuable possession you can own is your name. No matter what happens in the course of one's life, your only permanent holding (barring any legal change) is the name that you were given at birth. I entered this world as "Jack," and I will leave it the same way. So if you're like me, there is nothing more irritable than somebody referring to you by the incorrect designation. In my first few months in the working world, I was mildly offended by how frequently I had to correct others who misused my name. I've been called everything from Jake to Roger: the former makes sense, the latter was laughable.
Rather than getting openly offended, I began to make sure my name was on everything. This way, there was no way that someone could forget what to call me. Not only do I wear my metal name badge when I'm out in the community, but I also have a desk sign that displays my name in my office. There are a variety of ways to use signage as a tool for introducing oneself (or rather, re-introducing oneself) to others. And hey, name plates and desk signs are a lot more polite forms of communication than simply hollering "MY NAME'S JACK!" Here are some of the best products for displaying your name in the office:
#1: The Gold Frame Engraved Name Plate Sign
This name plate is the perfect sign solution for you. The standing desktop name plate comes in both "Satin Gold" and "Polished Gold" finishes and fits a 2"h x 10"w acrylic insert. The most popular insert color is black with white engraved text, but it is also available in marble, mahogany, navy, etc. The beauty of this product is that the gold frame almost beckons for visitors' attention. A beautiful engraved name plate certainly doesn't hurt the eyes either. Here's a little more info on the product: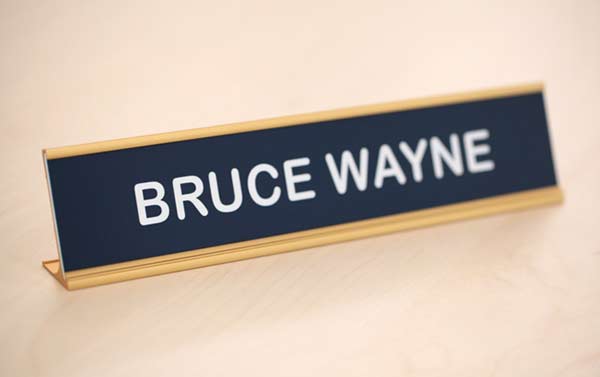 #2: The Brass Name Plate Flush Mount Sign
For a more contemporary look, this product is fantastic. The flush mount sign can easily be applied to one's door or wall, making for a great signage solution for your name sign. This sign is available in a variety of shapes and sizes, which will affect pricing, but it is ideal because the brass look will also attract attention. Furthermore, the acrylic backer on this name plate sign adds some depth and dimension which creates for a stunning look.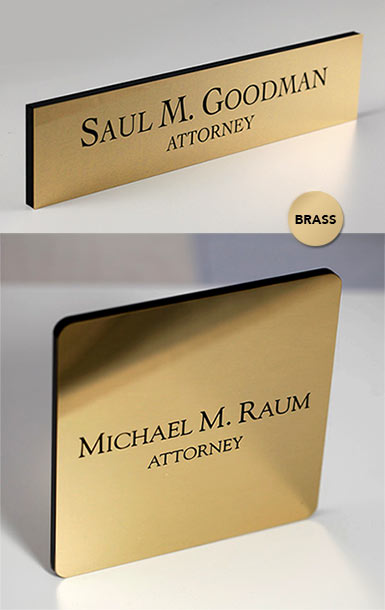 #3: The Governor Walnut Desk Sign
It ain't called "The City Councilman Sign." Alright, bad joke. But this product is one of the most unique desk sign options you can have—it's also the product that I chose to have on my desk. The solid wood backer beautifully contrasts with the metal name plate, creating for one awesome name sign. This product is available in 8" and 10" lengths, and the brushed metal name plate comes in a handful of standard colors, including gold, silver, brass, copper, and white.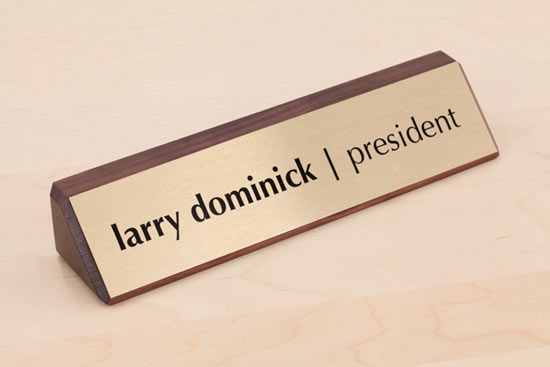 #4: The Satin Series Desk Sign
Let me prelude the description of this sign by saying this: it showed up in the TV show Suits so you know it's good. When it comes to desk signs, you want to make sure that your frame and insert work in tandem: this product exemplifies that. A removable lens allows for you to interchange inserts. The satin silver finish on the frame itself is the perfect touch to an infallible product. The best part? Your insert is available in any color you want, as colors can be digitally printed to match your company's brand.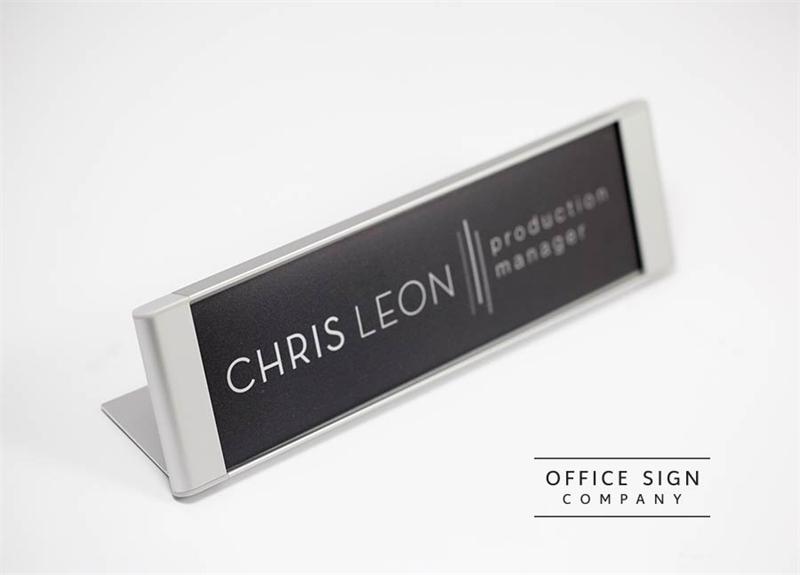 #5: The Office Door Identification Sign
If you are really proud of your name, you can go with one of our 'large and in charge' options. This office door sign comes in the standard size of 8"h x 19"w and can accommodate a variety of printed colors. What is so enticing about this option is not only the size, but also the fact that any logos can be printed onto it, making it a great sign solution for your company's workplace. The extended size of the sign also allows for additional lines of text to fit with greater ease, so you can not only boast your name, but also the company you work for and any other accolades you would like to include.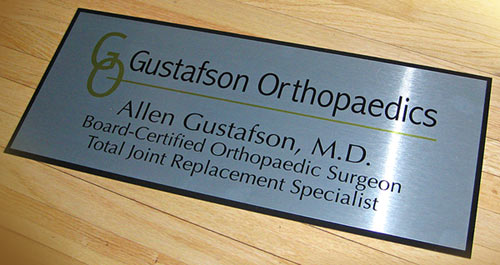 For more ideas on name signs, desk signs, door signs, or any other signage for your office, please feel free to visit our website at officesigncompany.com or contact us directly by calling 701-526-3835! Also, check out tutorials, giveaways, and much more on our Facebook, Twitter, Google+, Instagram, and YouTube pages. I appreciate you reading this, and hope you found it informative! Until next time…
Written by: Jack Yakowicz
Account Manager at Office Sign Company
Contact at jack@officesigncompany.com