As a proud marketer, and someone who has taken the reputation of our company quite serious for my three years of employment, there are few things I hold as near & dear as our company's brand. The way our logo is represented on embroidered swag, the verbiage that resides in our company's press releases, and the partnership opportunities that we choose to partake in are viewed with the utmost importance for this company of proud office sign fabricators. Though every piece of our marketing/PR puzzle helps produce the bigger picture that is the OSC brand, there's nothing more valuable than our trade name: Office Sign Company.
To the surprise of few, that leaves a team like ours a tad bit irked whenever we hear our name being misstated. We've gotten everything from "Office Supply Company" to "Fargo Sign Co." to "OFC" (trust me – I'm as confused as you); though, the incorrect name that we hear most regularly is the following:
The Office Sign Company.
Though I appreciate the assumed sentiment that we are THE one, THE only, THE office sign company, I am quite bewildered where the "the" comes from. In our recent brainstorming meeting it got us thinking – what if the emphasis is not on "the" but rather on "the office." What if these people are actually giving us credit for being the sign company that produces print materials for America's favorite paper company, Dunder Mifflin (portrayed in NBC's The Office)? And, most importantly, what would it be like to make signs for Michael Scott and company?
*cue "The Office" theme song*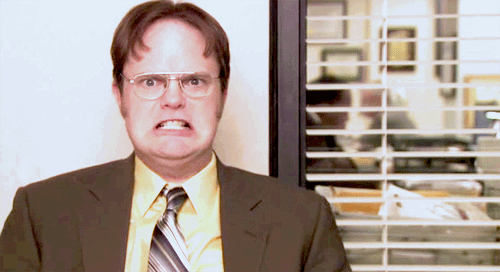 (The Office) Signs, Themselves.
First off, let's explore some of the signs that are pictured in the popular TV series. To fully understand the scope of what it's like to produce signs for Michael, Dwight, Pam, and co. we need to have a solid understanding of their print needs.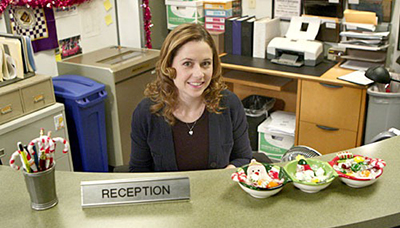 One of the most predominant office signs at Dunder Mifflin's Scranton branch is the Reception Sign. A little known fact in this narrative is that Jim would have never even noticed Pam if it weren't the beautiful, brushed silver nameplate that sat on her desk. Oh, you thought those sneaky glances were Halpert trying to get a look at his office crush? Quite the contrary. He was blown away by the sleek, metal finish of the silver polished frame.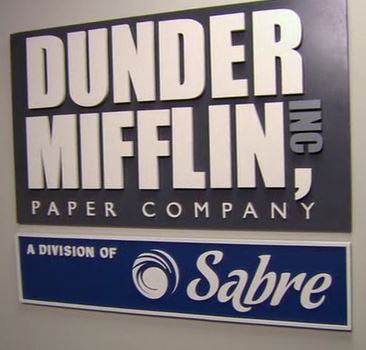 Of course, no office is complete without a dimensional logo sign, which is another purchase we can rest certain that The Office crew were pleased with. Though the (upper) sign showing the Dunder Mifflin logo is seen heavily in seasons 1-6, one of the largest plot shifts comes when Sabre, a Tallahassee-based printer company, purchases Dunder Mifflin part way through Season 6. Rumor has it that the only way the crew would be okay with the merger is if they received the pictured addition to their sign repertoire.
Who could forget the crew gathering for their Christmas card picture underneath the vinyl banner? Though Dwight got a little upset with Phyllis for not actually jumping, we don't blame her. She was simply trying to preserve the full visibility of this digitally printed, hemmed & grommeted sign. We get you, Phyll.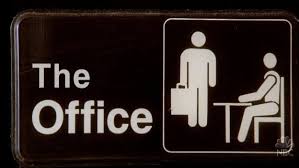 And of course, how can we forget the most recognizable sign in the entire series? Attempting to replicate an ADA office sign, this laser-engraved acrylic sign makes its presence known at the start of most every episode (at least, in the early seasons). It also doubles, quite often, as the TV show's logo and can be found on a variety of branded coffee mugs & other promotional goods throughout the internet.
Now that we have a deeper understanding of some of the sign needs that reside within Dunder Mifflin, we can begin to make some broad generalizations about what the sign purchasing experience may be like with the Scranton branch.
Surveying the Dunder Mifflin Office.
The process of creating office signs begins with a survey. This is the event in which account managers (or sales staff members) will schedule a meeting on-site at a client's location to get measurements, photos, and discuss their sign needs. Though multiple attempts were made to try to secure a meeting with Regional Manager, Michael Scott, he had a pretty busy schedule…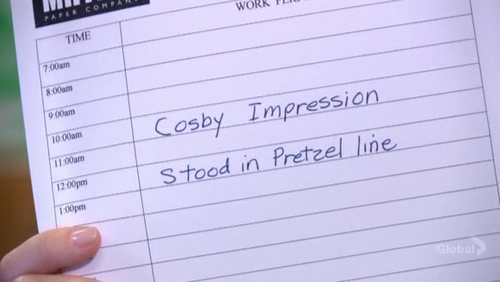 … so instead, we were asked to meet with the Assistant to the Sign Purchasing Agent, Dwight Schrute. After a little small talk about bears, beets, and Battlestar Gallactica, we were finally able to delve into the heavy-hitting details. Dwight showed us around the office and introduced us to some of the staff. When asked if he'd like to see a digital proof of his signs before we went forward with the order, he commented: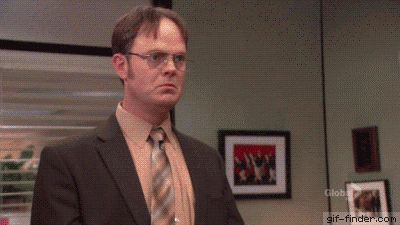 The Sign Proofing Process.
We were fortunate enough to meet an individual at the company who had a background in graphic design, and could assist us with the Dunder Mifflin brand guidelines as we prepped their signage.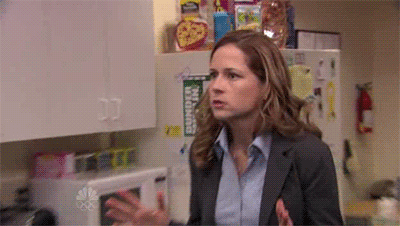 With the help of the former Pratt Institute of Design student, Pam, we were able to get to work on the proofs with ease, where they were then sent on to Michael & Dwight to see if there were any revisions necessary. When Michael learned that his sign proofs were entirely free with our company, and that he could have as many revisions as possible, he was quite pleased.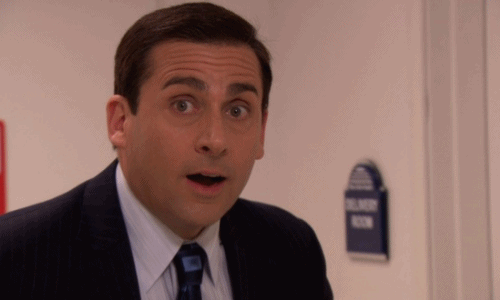 Being the creative that he is, he kept our designers pretty busy with revision, after revision. But after his final change (getting "Prison Mike" to be the name on his metal name badges) we were full-steam ahead.
Receiving the Signs.
Michael & company asked for a two-day turnaround on their sign order, which we were able to make happen. Having been burned by a few print companies in the past, Michael was a bit nervous to open the package when it arrived from Darryl in Receiving.
However, upon opening up the package he was delighted to notice that the signs were exactly as proofed, and he couldn't have been happier. In fact, with the extra money he saved from utilizing our MIFFLIN10 (10% off any order, good through 12/31/2018) promo code, that he decided to go ahead and give the funds to the Party Planning Committee to put on a sign celebration ceremony. The team obliged.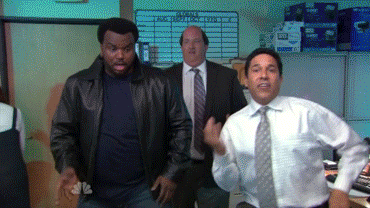 We even received some amazing testimonials from the team. Ryan Howard used WUPHF to give a shout out to our team, Kelly told us it was the best signage she'd seen since the decorative pieces at the Royal Wedding, Angela smiled, and Creed even posted a review on his personal site…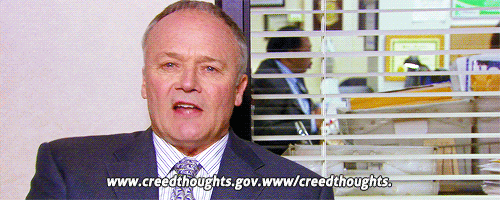 Needless to say, in this fantasy of ours, we had a pretty awesome time producing signs for the squad at Dunder Mifflin – Scranton.
If you've ever referred to us as "The Office Sign Company" before – don't sweat it. It helped us create some decent blog content, and gave me an excuse to binge-watch more episodes of my favorite Netflix series. However, if it happens again…
Written By: Prison Mike