Happy #FridayFeature! This week we are so excited to introduce the newest member of the Office Sign Company team! We know his many talents will fit in perfectly with our Vinyl Department and can't wait to see all that he will accomplish. We are proud to present our new Vinyl and Print Specialist – Meet Sam!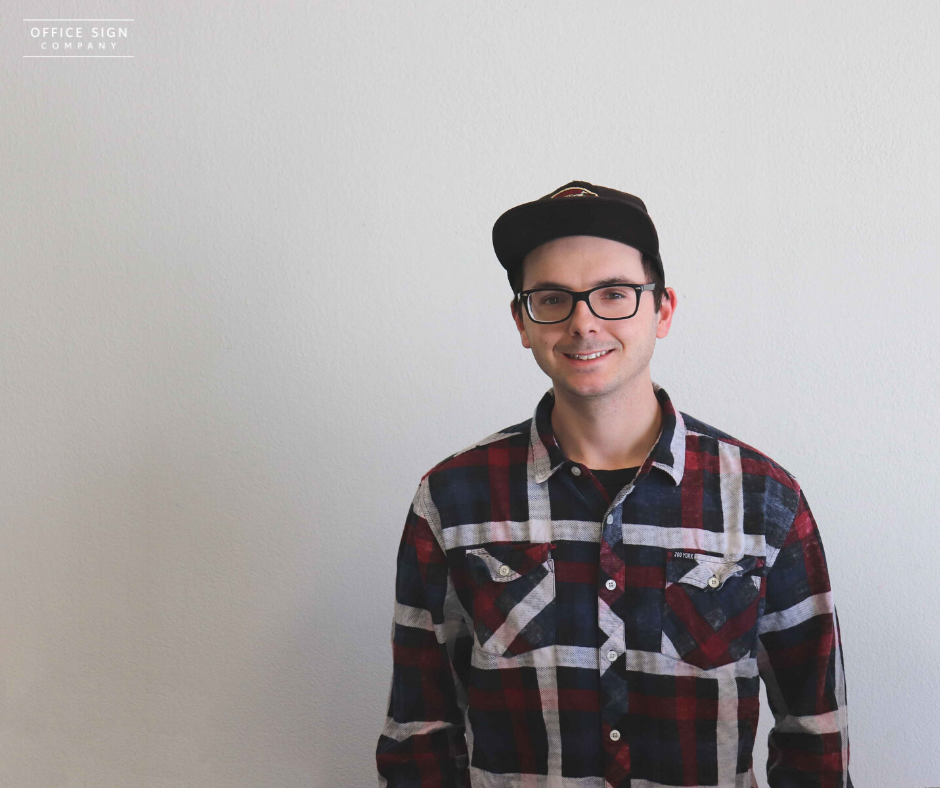 What's your name?
Where are you originally from?

I am originally from Bismarck, North Dakota.

What's your current position at Office Sign Company?

I am the Vinyl and Print Specialist!

Can you tell us what all that will entail?

As the Vinyl and Print Specialist I will be weeding, applying, cutting, masking and preparing vinyl for installs.

Did you attend college? Yes. If so:

When did you graduate? 2015
From where? Bismarck State College
What degree did you pursue? Associate

Have you worked anywhere previously? Yes
People would be surprised to know that you can….

People would be surprised to know that I can bake desserts really well!

Favorite activity?

In the summer I enjoy frolfing and longboarding! In the winter months I like to go skiing.

Favorite sport/sports team?

Not much of a sports guy but I don't mind watching hockey.

What are you most looking forward to while working here?

I am most looking forward to meeting new people and learning new things!

What show are you currently watching on Netflix?

I just finished watching YOU and The Circle. A new season of The Society is coming out this year and I am ecstatic about that!

When I'm not at OSC, you can find me….

You could probably find me playing Magic the Gathering with my friends.

What's your favorite meal/restaurant in Fargo?

The beast burger at Wild Bill's – hands down.

What advice would you give to younger people trying to get into your profession?

Keep at it. Getting your foot in the door is the hardest part, but after that it gets easier.
We are so proud to have Sam on our team and know he will continue to make a positive impact at Office Sign Company (and maybe even bake a few desserts for us)! With any questions about our products, services or career opportunities, be sure to reach us via email or give us a call at 701.526.3835 – Welcome to the OSC family, Sam!