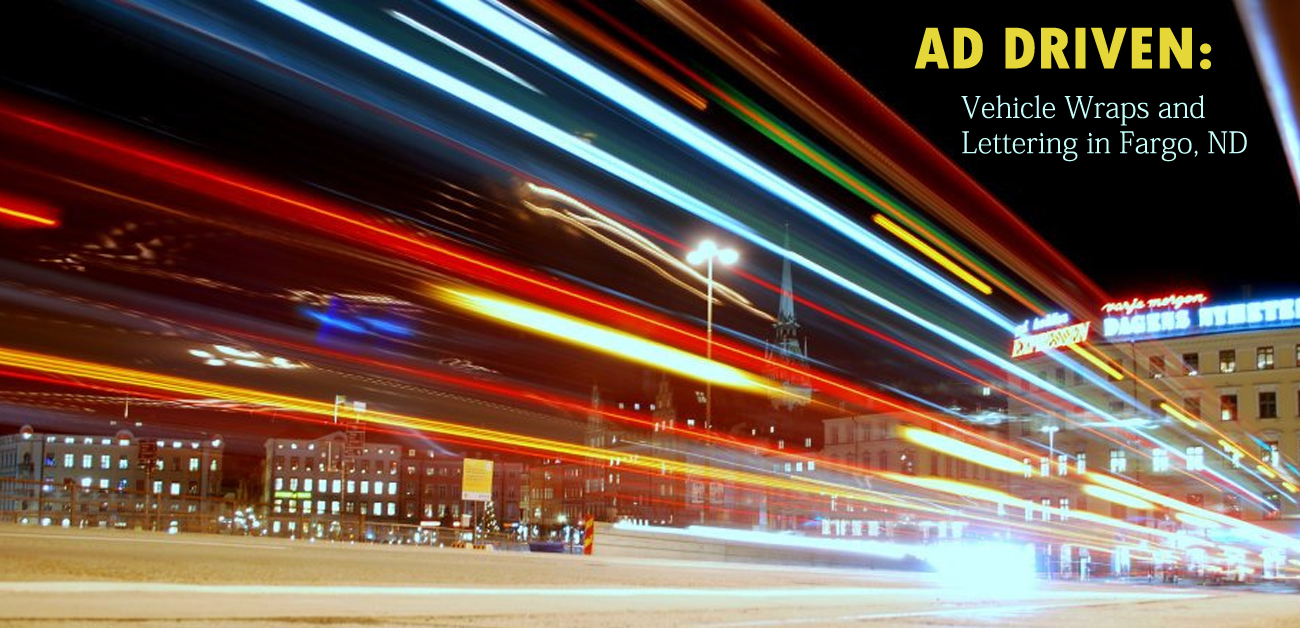 On my drive to work this morning, I decided to play a little game. Because I hadn't yet reached the pot of brewed coffee in our office, an activity that could keep me awake was basically a requirement. I decided to count the number of vehicles that I drove past (either parked in a parking lot, or on the road) that had vehicle lettering or wraps on their bodies. Bear in mind, I live only 0.5 miles from my office. In that half mile stretch from home to work, I went by seven cars or trucks that had business-related graphics on them. That's one wrapped or lettered vehicle every 125 yards! This was at 6:30 in the morning. Needless to say, for sole proprietors and large corporations alike, vehicle graphics are one of the most important investments when it comes to garnering attention for your business.
Why should businesses use vehicle wraps and vehicle lettering?
Why should fish swim? (Just kidding, but also serious: vehicle graphics are a necessity in this fast moving society). According to the Outdoor Advertising Association of America, more than 95 percent of Americans are reached by advertisements and media that target vehicle drivers and passengers. Todd Stuart of SignZoo estimated that a vehicle wrap costs roughly $0.04 for 1,000 impressions. If you're a digital marketer like me, that figure is astonishing. Four cents can only get me about 12 impressions on Facebook. It's no wonder that both local and national businesses are seeing the value in wrapping their company cars and trucks with graphics: its working!
If you need further proof, let's break it down by looking at how often people are driving and thus exposed to your business' vehicle graphics. A recent study by Harvard Health Watch found that Americans spend nearly 38,000 hours driving during the course of their lifetime, spanning a distance of around 798,000 miles. Factor in 1-4 additional passengers in that car, and you've got yourself a beautiful niche market driving right next to you on the road. Given the fact that humans are on the road so frequently throughout the course of their lives, businesses should see the massive amount of passengers and drivers as a prime advertising opportunity. The 200,000+ individuals in the Fargo-Moorhead-West Fargo area are your minds to mold!
Where in Fargo can I go to have vehicle graphics installed?
Well, you're on Office Sign Company's blog for a reason, aren't you? Office Sign Company is a business that was founded in 2008, and began by producing interior signs and vinyl graphics for companies across the nation. Each year, [OSC] has increased their production capabilities and skill sets, investing in new machinery and certifications to satisfy all of your signage needs. Office Sign Company is the best place to go in the F-M area for vehicle graphics, because of a handful of reasons:
FREE digital proofing on all jobs
Collaborative design creation
Creativity when it comes to artwork and implementation
Devotion to customer service before, during, and after installation
Drive-up installation service center at new production facility
Over 50 years of combined installation experience on our staff
Recognition as Fargo's "Best Small Business" by the FMWF Chamber of Commerce
Affordability, and willingness to work with any budget
No job is too big or too small
Give us a shot today, and we'd be happy to provide you with a cost estimate. All we will need to know is your vehicle's make and model, whether you are looking for a full wrap, half wrap, or vinyl lettering, and the design elements you are searching for. Our team of designers will happily work with you to create the car of your dreams that will help promote your business everywhere you drive to.
What certifications does Office Sign Company have?
Beyond the years of experience that our team members have when it comes to vehicle wrap and lettering installation, we also have a variety of certifications that will let you rest at ease when it comes to getting your vehicle graphics installed through OSC:
Lowen Certified Expert Installers. Lowen Certified is the largest and most experienced 3M authorized graphics installation training and testing center in North America. The Lowen program offers thorough, hands-on vinyl graphics training on cars and vehicles with compound complex curves, work vehicles with compound complex curves, trailer or fleets with corrugation and rivets, and more. The Lowen Certified Training and Certification Center is also the largest facility with the most advanced technology in its field.
3M Preferred Graphics Installers. The 3M Preferred Graphics Installation Program accredits individuals who demonstrate high skill in the installation of vinyl graphics, as well as sound business practices. The certification is granted to individuals after meeting various business requirements, passing a rigorous hands-on and written test, and demonstrating a commitment to ensuring employees follow proper company policies and 3M installation procedures.
Avery Dennison Certified Wrap Installers. To receive the Avery Dennison certification, individuals must pass a test that involves five modules: written exam, hood, fender, door/window, and a cutting test. The Avery Dennison test is recognized as one of the most fundamental tests of one's knowledge and skill set when it comes to graphic installation, and the ADCWI certification distinguishes vehicle wrap and vehicle lettering installers from the competition.
Office Sign Company encourages their employees to seek new certifications, and constantly brush up on their skills when it comes to vehicle wraps and lettering. We operate under a "no job is too big or too small" model, and want to ensure customers that we have the skill set and experience to handle any vehicle that comes our way.
What vehicles can Office Sign Company wrap?
You name it. We are able to handle almost every vehicle that comes to our shop, and our trained and certified install team has experience working on a variety of automobiles. We are able to put decals and lettering on individuals' compact cars, or put large wraps on tour buses. There really is not a job that we say "no" to.  Heck, we've even wrapped small race cars (see in the section below)! Here is a brief list of some of the vehicles that we are capable of wrapping:
Subcompact cars
Compact cars
Mid-size cars
Full-size cars
Mini vans
Cube vans
Small panel vans
Large panel vans
Pick-up trucks
Work trucks
Semi-trucks
Buses
Trains (OK, so maybe we haven't done those yet, but we're willing to try!)
We often have customers who are unaware that we can operate on all of these vehicles, so hopefully this post serves to alleviate some of that concern. Most individuals think we only will operate on large trucks for businesses where a higher margin can be achieved. Not the case! We have worked on cars and trucks of all sizes, and shown below are some of our recent works:
OK, I'm sold. Now where can I shop?
If you are a business in the Fargo-Moorhead area, I would encourage you to stop in to either our corporate headquarters at 310 NP Ave N in downtown Fargo, or our new production faciltiy at 1416 41st St N in Fargo, to speak with a representative from our company. If you are looking to get a quote or proof initiated, please send us a message at service@officesigncompany.com explaining what you are looking to have done. Finally, if you want to setup a time for our install team to survey your vehicle or fleet of vehicles, call us at 701-526-3835. We'd be honored to work on your car, truck, or van!
Here at Office Sign Company, it's our desire to provide customers with all of the signage they need to help their business. Statistical evidence proves that vehicle lettering and wraps are working to make a difference in promoting businesses! By employing a team of certified vehicle graphic installers, we hope you feel confident in choosing OSC for your next vehicle graphic installation.
Written by: Jack Yakowicz
Marketing Coordinator at Office Sign Company
Contact at jack@officesigncompany.com